Shopping Cart
Your Cart is Empty
There was an error with PayPal
Click here to try again
Thank you for your business!
You should be receiving an order confirmation from Paypal shortly.
Exit Shopping Cart
Where Moms and Friends get together to share about kids and life

| | |
| --- | --- |
| Posted on February 28, 2020 at 3:29 PM | |
As moms and parents we are always trying to teach our children something… how to communicate, how to play a game, how to behave, how to take care of their things and themselves....the list goes on…
But, have you ever stopped and listened to learn from them?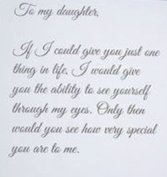 I have always noticed, since my daughter could talk, that she compliments people.  Everyone- friends, moms, teachers, coaches, people we meet along our path of life, employees at stores we frequent - everyone!  I on the other hand, am not a big compliment person, never have been.  I think the compliments in my head, but never say them. 

 


My daughter, is so sweet and always makes someone's day! 




She will compliment their hair yes, even girls with purple hair , jewelry, clothes, shoes, purses, whatever.  It is one of the best traits I think someone can have.  She  makes other people feel real good and I am blessed to have witnessed this for the past 11 years.  

 


I decided to take a lesson and learn from my daughter.  I complimented my sister she is also very complimentary of people and I told her I liked her outfit and her mod look.  




Then I complimented my daughter as well! 

 


She was wearing all hot pink and looked real cute!  I told her she looked great in pink!  She thanked me and I could tell it made her feel good!  

 


What I learned:     Complimenting people makes them feel good and making others feel good could make a difference in their lives, to tell people what I am thinking instead of just thinking it - makes me feel good and learning from my daughter is such a valuable lesson to me.  

 


What we share:    Lessons and learning is not just from mom to child but child to mom too.

 


 


Today, take a moment to tell someone you love, like or even a stranger how good they look or what you like about them.  I promise it will make their day and yours! 

 


Making a difference in some one's life will put a smile on your face and theirs and making life so much more fun to live, don't ya think?

 





Happy complimenting!  Dyan

Categories: What I learned, What we learned, what we share, feeling good, quality time, family, what we shared,

0

/