Shopping Cart
Your Cart is Empty
There was an error with PayPal
Click here to try again
Thank you for your business!
You should be receiving an order confirmation from Paypal shortly.
Exit Shopping Cart
Where Moms and Friends get together to share about kids and life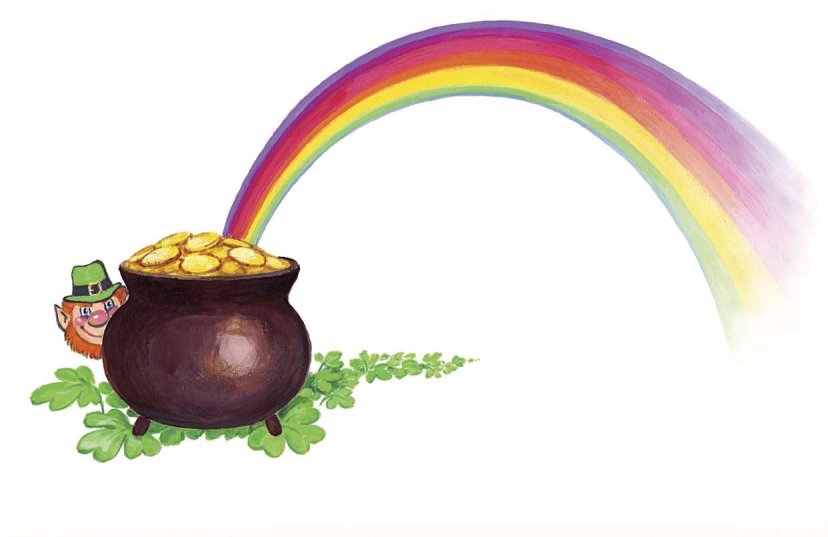 Enjoy creating memories with your child that you both will treasure for years to come!  All of my best, Dyan
We are keeping up with holiday traditions this year.  My daughter decided that she wanted to put out her special rainbow craft she made in preschool and every night we need to put out a gold coin for the #Leprechaun,  make a wish and leave it for the #Leprechaun to eat.....she said we did that last year,  I don't remember making St Patricks Day so involved, but she has insisted upon it.  
So, that is what we have done every night before she goes to bed, we take a gold coin and set it next to her special rainbow, she closes her eyes and makes a wish.  Really and truly a precious moment to experience!!  
Yes, it is a lot of work to remember to open the coin at night (or morning) if I forget the night before, and dispose of the candy, but it is worth it. She loves the idea of putting out a coin and making a wish and hoping for that #Leprechaunmagic!  
This one might not be for you, but I can't help playing a long.  For many reasons,...she believes in the magic, it is exciting for her to do every night and it is something she looks forward to every evening.  But, the most important reason of all for me, is I know these moments of believing in the fairy tales of life (Santa, the tooth fairy and the Easter bunny) will soon be coming to pass.  So yes, I will go along with her and cherish each and every second of  these childhood beliefs.  I will believe in the magic and relish in her belief  in the magic of the #Leprechaun.   May your days be filled with the simple pleasures of life seen through the eyes of your child.  May the magic of the #Leprechaun fill your home with joy.  All of my best, Dyan
#maketime & #taketime
to

#raiseamazingkids
De-stress Your Mornings to Make Your Holidays More Cheerful
Written by Daniel Sherwin                   
dadsolo.com
This is the time of year for joy and thanksgiving. It's also the time of year for stress. One thing that you can do to make your holidays less stressful is to create a morning routine that gets everyone up and on their way. Here are some tips: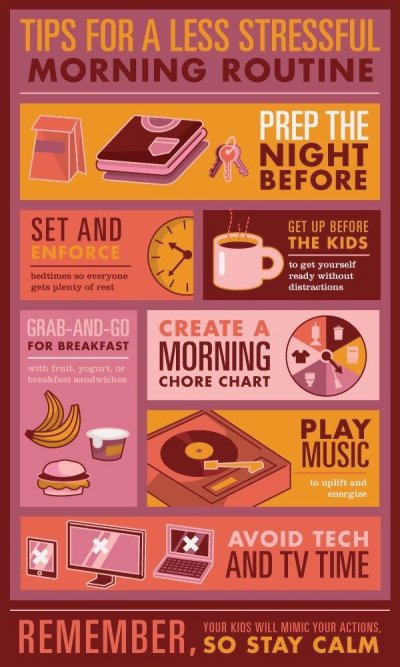 Image Source: DadSolo.com







Additional Holiday Morning Routine Resources:


1. Prep the night before and other tips on how to establish a morning routine for kids that actually works
2. Easy and effective home organization tips
3. De-stress your morning routine tips
4. Breakfast to go and other secrets to getting the kids to school on time
5. Get plenty of sleep and other tips on how to establish a morning routine for kids that actually works
6. Play music (Revolutionary morning routine hack for kids)

Now that you've figured out how to de-stress your morning routine, you're ready to take on the holiday challenges. Bake those cookies! Light those candles! Decorate and decompress.
You've got this covered!

 


Side note:  You do have this covered!  Thank you Daniel for your tips to keep our homes flowing with less stress and positive energy for our kids!  I hope you all enjoyed these tips!  Wonderful reminders on how to keep everything flowing in your mornings, but can easily be forgotten with everything going on in all of our lives!!

 


Remember to #makethetime & #takethetime to de-stress this holiday season.




To see more of Daniels ideas, please visit his website at www.dadsolo.com




#raiseamazingkids




All of my best,

Dyan




0

/