Shopping Cart
Your Cart is Empty
There was an error with PayPal
Click here to try again
Thank you for your business!
You should be receiving an order confirmation from Paypal shortly.
Exit Shopping Cart
Where Moms and Friends get together to share about kids and life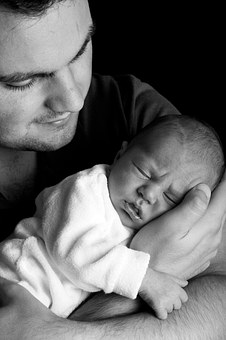 Safety and Easy Access: Home Modification Tips for Disabled Parents 
By Ashley Taylor 
disabledparents.org 
For couples expecting a child, there's always lots of work to be done around the house to get ready for the new arrival. There's childcare equipment to put together, safety precautions to take, and changes to be made to the layout of your home. 
For disabled individuals, getting ready for a child means preparing a home to
meet mobility limitations
and eliminate problems that could make it difficult to provide the level of care a child needs. Disabled parents need to anticipate potential problems with everything from safely bathing a child to middle-of-the-night feedings and diaper changes. 
Setting up your childcare environment 
Being an effective parent and care provider means being prepared physically and anticipating your child's needs. Having ready access to the nursery, or wherever you decide your child will sleep, is crucial. Set everything up so you can reach your child quickly with the least amount of exertion possible. Your child's
crib
should be close by, near enough that you can hear him easily during the night. 
Be sure you have a
reliable baby monitor
(buy a new one rather than taking your chances with a hand-me-down). All baby-care supplies, including diapers, ointment, baby powder, bottles, and formula, should be stored within easy reach so you can get to them from another room (think convenience first). 
Ensure there are enough
safety gates
on hand to prevent the possibility of a crawling baby falling down a flight of stairs. Security gates should always be firmly anchored into the wall and not held in place by springs. If a disability makes it difficult for you to move around quickly, a security gate can provide peace of mind for you and your partner, as well as safety for your little one. Nail down any loose or frayed carpeting and remove throw rugs that could get snagged in wheelchair wheels. To improve room-to-room access, replace your door knobs with levers, which are easy to manipulate, especially when you're in a hurry. Identify any furniture that could easily fall over (such as a footstool or small table) and have it secured to the floor or removed. Cabinets where cleaning supplies and other dangerous chemicals or sharp items are stored should have locks and be well-secured. 
Disabled-adapted child care equipment 
For a disabled parent, picking up a baby or small child repeatedly and moving around can cause a potentially damaging physical strain. Look for small, portable bathtubs designed to help disabled parents and
car seats
that swivel to make buckling and unbuckling a small child easier and less damaging to the back, neck, and arms. Consider getting a crib with a front-opening gate that doesn't require reaching up over the side. Look for other ways to simplify caring for and moving around the house with a small child. Sometimes, being a disabled parent means having to be resourceful and inventive. 
Financial assistance 
If you are on
Social Security Disability Insurance
, you may be eligible for financial assistance if you're providing in-home care for a child through the Supplemental Nutrition Assistance Program. In many cases, a disabled family of three making less than $2,213 a month is
eligible for assistance
. Check the Center on Budget and Policy Priorities
rules
to see if your family is eligible. If not, research the many subsidies and private grant funding available. 
Parenting is a hard job under any circumstances. It's important to plan ahead, recognize what modifications are needed, and arrange your home to make child care as easy and convenient as possible. Always think in terms of safety and quick, easy access. 
Thank you Ashley for reaching out to me to share your wealth of information on home modifications for disabled families raising children.  I am sure it is not always easy and I know that each day brings new learning opportunities as well as struggles, but also I know you find triumphs and I am grateful for you sharing some of them.  My hope is that this article reaches all families as a great resource to help them with their daily routines as well. Thank you for being a part of Moms, Kids and Friends and sharing your ideas about kids and life! 
If you would like to read more inspiring articles by Ashley, please visit her website at:
disabledparents.org
#TAKETIME  #MAKETIME & #SPENDTIME TO #RAISEAMAZINGKIDS 
All of my best, Dyan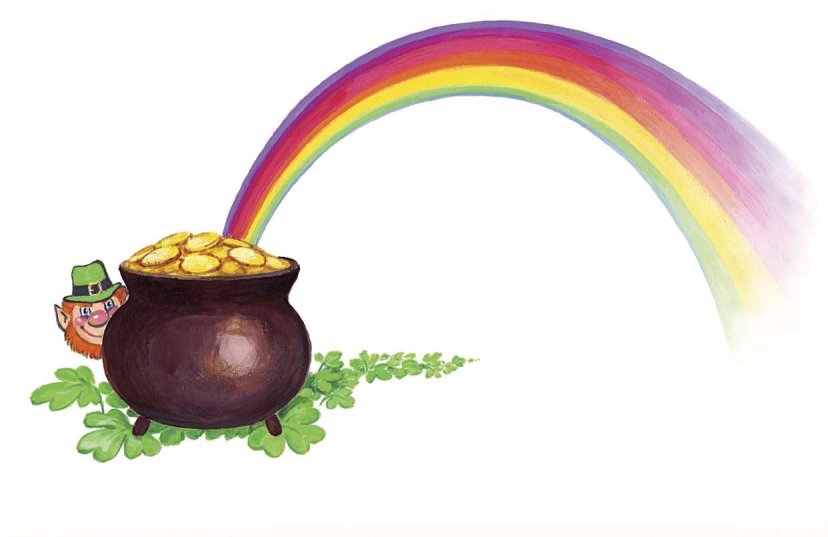 Enjoy creating memories with your child that you both will treasure for years to come!  All of my best, Dyan
We are keeping up with holiday traditions this year.  My daughter decided that she wanted to put out her special rainbow craft she made in preschool and every night we need to put out a gold coin for the #Leprechaun,  make a wish and leave it for the #Leprechaun to eat.....she said we did that last year,  I don't remember making St Patricks Day so involved, but she has insisted upon it.  
So, that is what we have done every night before she goes to bed, we take a gold coin and set it next to her special rainbow, she closes her eyes and makes a wish.  Really and truly a precious moment to experience!!  
Yes, it is a lot of work to remember to open the coin at night (or morning) if I forget the night before, and dispose of the candy, but it is worth it. She loves the idea of putting out a coin and making a wish and hoping for that #Leprechaunmagic!  
This one might not be for you, but I can't help playing a long.  For many reasons,...she believes in the magic, it is exciting for her to do every night and it is something she looks forward to every evening.  But, the most important reason of all for me, is I know these moments of believing in the fairy tales of life (Santa, the tooth fairy and the Easter bunny) will soon be coming to pass.  So yes, I will go along with her and cherish each and every second of  these childhood beliefs.  I will believe in the magic and relish in her belief  in the magic of the #Leprechaun.   May your days be filled with the simple pleasures of life seen through the eyes of your child.  May the magic of the #Leprechaun fill your home with joy.  All of my best, Dyan
#maketime & #taketime
to

#raiseamazingkids
How To Help Your Child Cope With Cyberbullying In A New School
by Joyce Wilson                                                      
teacherspark.org

Moving is stressful at any age, but for children, the prospect of relocating and changing schools can be especially traumatic. Oftentimes, "the new kid" is subject to being picked on in the new school. To complicate matters, cyberbullying can be especially challenging for parents and kids alike. How do you help your child cope when bullying isn't happening face to face?
Here are some tips and tools to help.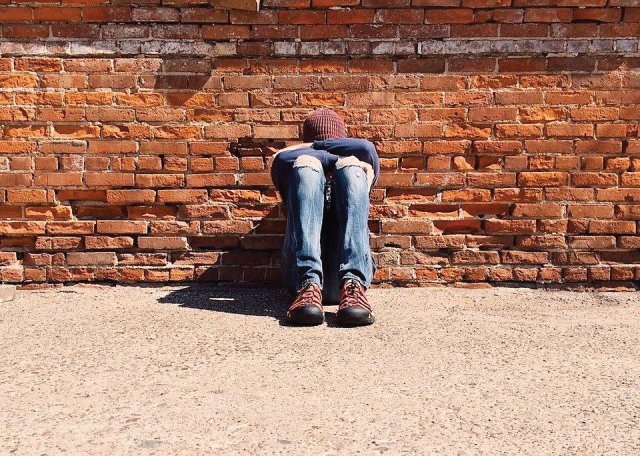 Being the new kid
Moving can be very stressful for children. Some experts recommend moving when there is already a planned transition, like after the school year completes or before entering high school.
Psychology Today
suggests that changes in the middle of the school year or in the middle of high school can be much harder.  Here are some great suggestions for helping your child through the transition:
● Let your child know early on that you will be moving
● Let your child vent worries without judging him or her
● Have a going away party
● Allow your child to make some of the decisions relating to the move
● Help your child to keep in touch with old friends
During the adolescent years, kids are in the process of learning who they are as individuals, preparing to leave the nest, and are forging deeper friendships with their peers. That evolution has a big hiccup when a move is involved. If your child becomes the target of a bully on top of all that,
experts
say it can be emotionally devastating.
Tools in your toolbag
Some experts recommend a conversation about bullying to give your child some basic coping skills. The Los Angeles Times recommends watching this
great video
to open lines of communication with your child about bullying.
It also suggests three simple tips for dealing with bullies:
1. "That's not cool." If the bully is a friend, your child can use these three little words to address the issue.
2. Tell the school. Your child can approach a teacher or other school official with the problem.
3. Don't laugh. Laughter encourages bullies.
Cyberbullying
Cyberbullying occurs when kids use technology to bully their peers. Bullies use avenues such as texting or social media to harass or embarrass victims. It has become so rampant that
some studies show
one in four adolescents is cyberbullied. It can seem overwhelming and complicated when the situation isn't occurring in person. Here is how you can respond if you believe your child is being cyberbullied:
● Be supportive. Make sure your child knows coming to you is the right thing to do, and he or she is not to blame for the situation. Encourage your child not to fan the flames by responding to the bully. Be sure the school is aware of the situation and see if a counselor is available to talk with your child.
● Be protective. Record all of the evidence you can. If you have photos, screenshots, text messages, or voice recordings, save them. Then block the bully on all accounts and devices.
● Be comforting. Kids respond to your stress with more anxiety. Your fearful response tells your child there is something to fear. Instead, maintain a positive attitude and keep lines of communication open.
Less stress at home
Having a safe haven at home can help your child cope with stress. Here are some helpful tips:
● Get a calm start on the day, not rushed or chaotic.
● Be sure your child gets enough sleep.
● Instead of staying chronically busy, be sure you child is getting sufficient downtime.
● Talk with your child and offer advice, but don't be critical.
● Set aside some alone time in a
quiet space
to disconnect from others and make time for yourself
Moving forward
Being the new kid isn't easy, especially if targeted by a bully. Prepare your child with some basic tools, keep lines of communication open, and make sure your home is as stress-free as possible. You can help your child cope, even with a cyberbully.
Side note: 
I hope you enjoyed reading this information as much as I did.  Thank you Joyce for sharing ideas on how to stop and cope with bullying.  You can check out her website at 
teacherspark.org
Please #makethetime and #takethetime today to talk to your child about bullying.
No child should ever be bullied or bully.
It all starts at home by teaching your child to be kind and respect one another.
If we, as parents and caregivers, #takeastand together to stop bullying we can #makeadifference
Show your kids you care.
#raiseamazingkids
All of my best, Dyan
MOMS, KIDS AND FRIENDS – "Todays Funny, Cutie Quote" A funny story, cute quote, funny idea, laugh out loud, smile moment. Today I am #grateful for my daughter
This morning I went into my office to organize and pick-up. As I started shuffling through papers, organizing mail, bills and such I came across this cute #lovenote for my daughter.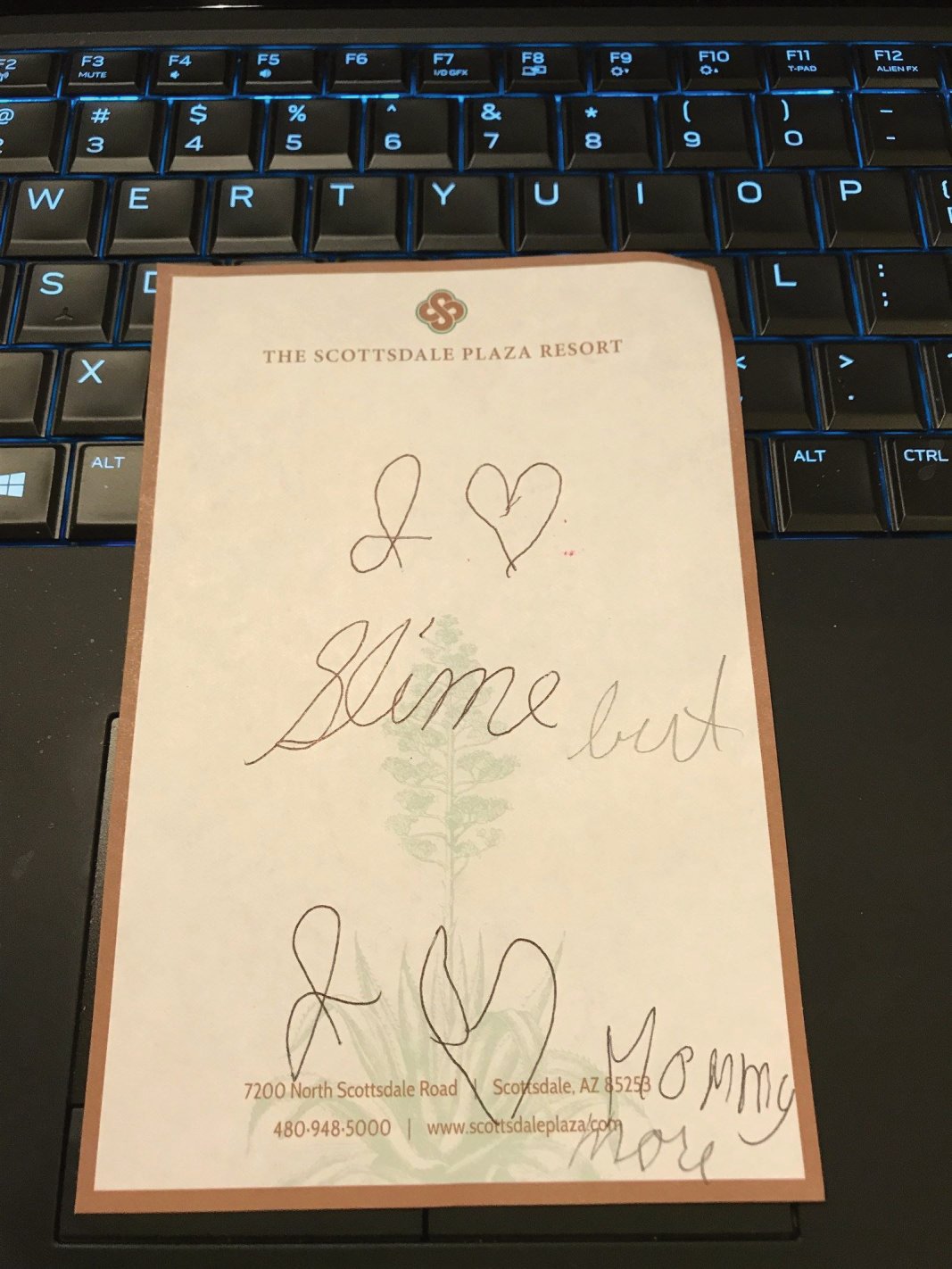 She does this from time to time, she leaves me little #lovenotes. #Iloveit when she does it because it makes my day! It seems that I always have a pile of something to go through my office and when I am in there working and come across one of these notes, I smile….and sometimes, I even take the note and stick it in the bottom of the pile so I see it again when I am finished with my task. I know it sounds crazy! But it makes my day and makes the tedious task so much more worth it!
When I came across this #lovenote my daughter left me. I thought it was so cute and I laughed out loud, So I wanted to share it!
Slime may be all the rage right now, but I am happy to know that mommy (at least in her world) still comes first!
I have to believe that in showing my daughter how much I love her with #hugs and words and spending #qualitytime with her and #MakingTheTime & #TakingTheTime to spend #qualitytime with her, has made a huge difference in her life and mine!
I hope you enjoy today's #cutiequote
And I hope you#MakeTheTime & #TakeTheTime
to
#raiseamazingkids
All of my best, Dyan

Grateful Pumpkin - #funeasyinexpensivekidcraft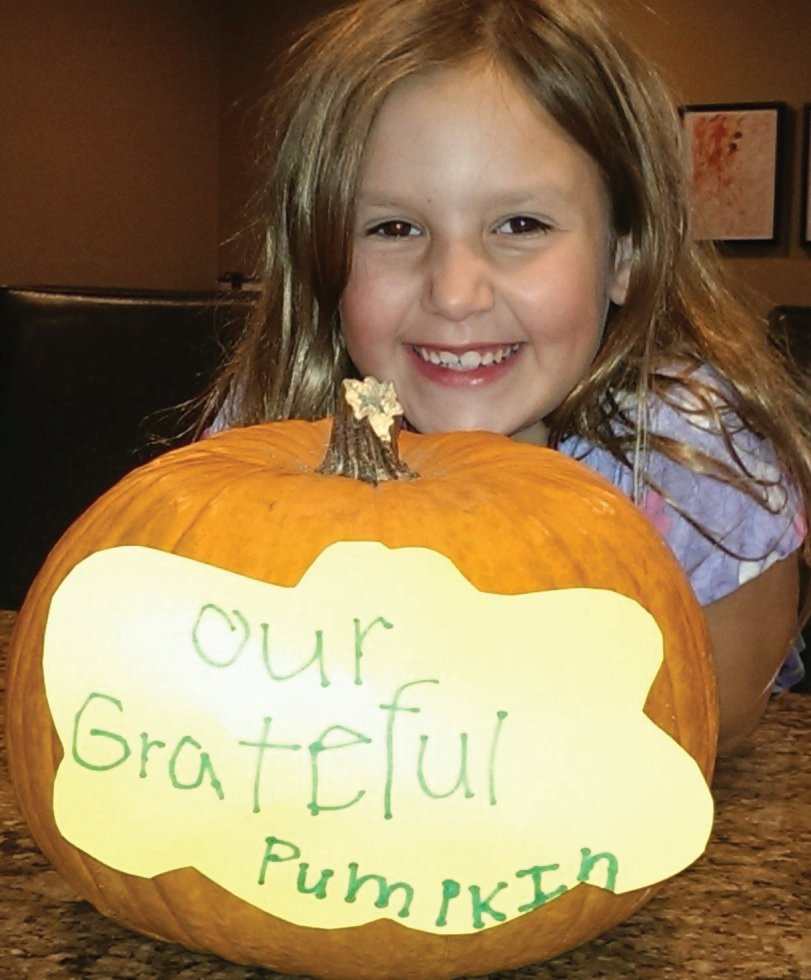 Our October was so busy with fun that we never had the chance to carve our pumpkins this year (or last...lol). I tried to squeeze in last week, but with everything we do in the last week of October it would have been forced and rushed. My daughter was fine with it because she had already decorated two pumpkins for Halloween and as the week quickly went by, I was already starting to think about what else I would do with these pumpkins. The idea of #gratefulpumpkin came to me and I was more excited about these than carving...so that's what we did!
What we used to create our #gratefulpumpkin:
1. A pumpkin (any size but bigger let's you write more things you are #grateful for - which is so important to teach your kids being #grateful)
2. Fall color construction paper
3. Glue stick
4. Sharpies
5. Scissors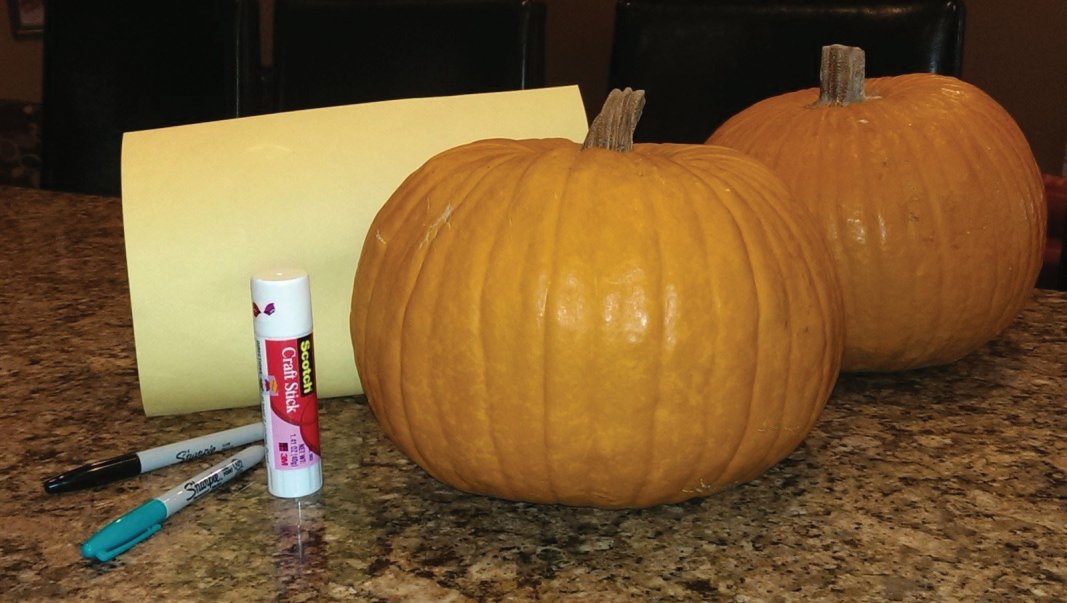 Cut a pretty design out of your construction paper. If your child can write have them write Our #GratefulPumpkin on paper, if not you can write. Glue to front of pumpkin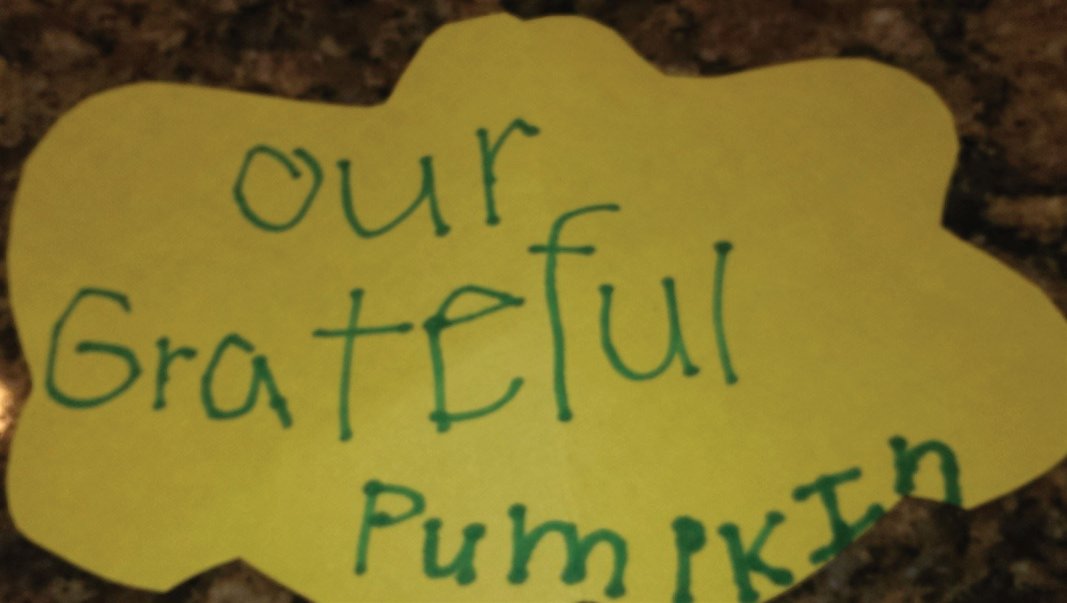 Have each person in your family write something you are #grateful for and add one thing everyday. By the end of the month you will have many things that you and your child are #grateful for and can reflect on each day. That's it!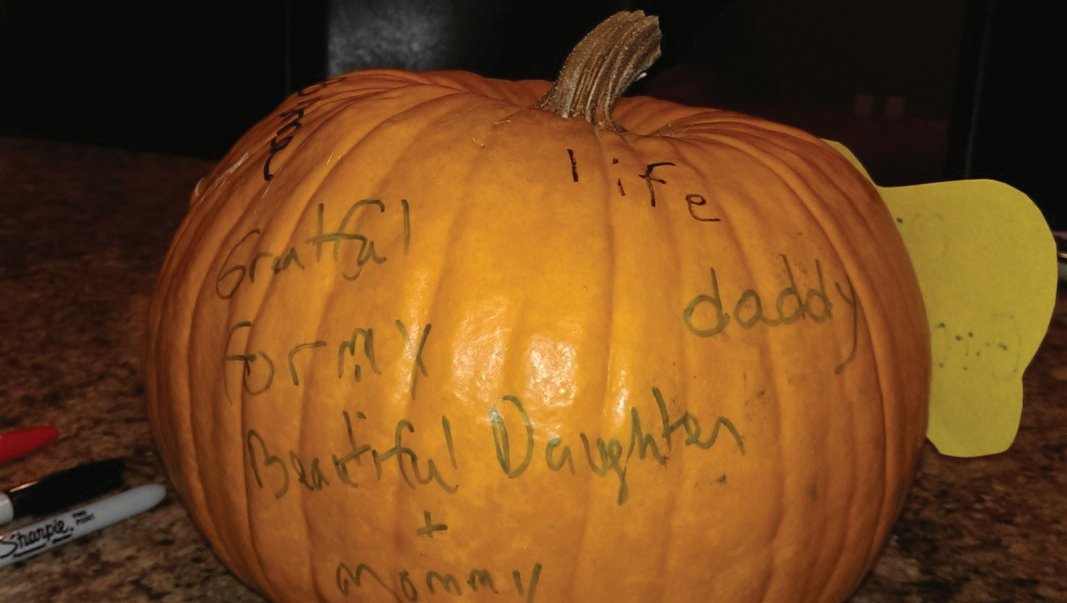 What we learned: How to #reuse items around the house, the use of scissors, practice writing, spelling and being #grateful of course!
What we shared: Creativity, fun, discussing what #gratitude is and why being #grateful for the wonderful people and things in our lives is so important, quality time and memories.
My husband even got in on our #grateful pumpkin which is atypical for him to join in on our moms,kids and friends stuff. #ILoveit....this became a family thing.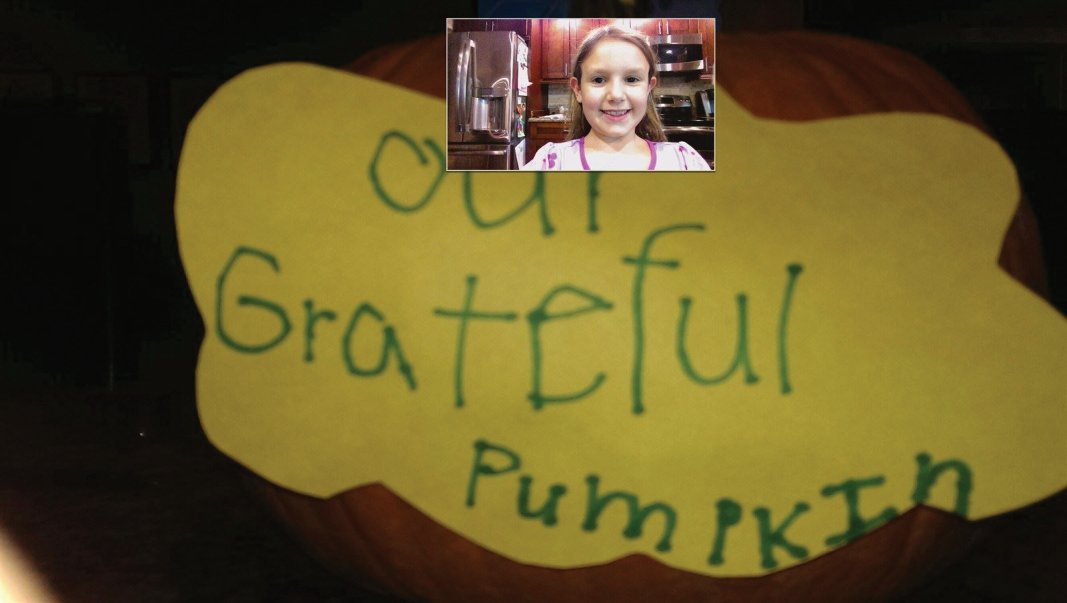 #Makethetime and #takethetime today to share time with your family and talk about #gratitude, what your #amazingkids are #grateful for, what you are #grateful for and the importance of #gratitude!
I am excited to hear my daughters responses each day. We have one rule. If it is already on the pumpkin and another family member has written it, we can not repeat what we are #grateful for, but have to come up with something new.
My daughter is so excited about this simple and fun way to express her #gratitude, she said she wants to come up with two things everyday!
MAKE IT YOUR OWN, MAKE IT FUN, JUST MAKE IT!!
You'll be glad you did! 
All of my best. May you have a wonderful start to this November. Dyan
#momskidsandfriends
We had our annual #happyhalloween party this weekend! As usual we were pressed for time but worked hard to make it happen! Incase you decide to throw a last minute party for your kids we wanted to share a few ideas.
My daughters food choices were a cute addition!
Cheese, olive and chive flour tortillas decorated as pumpkins.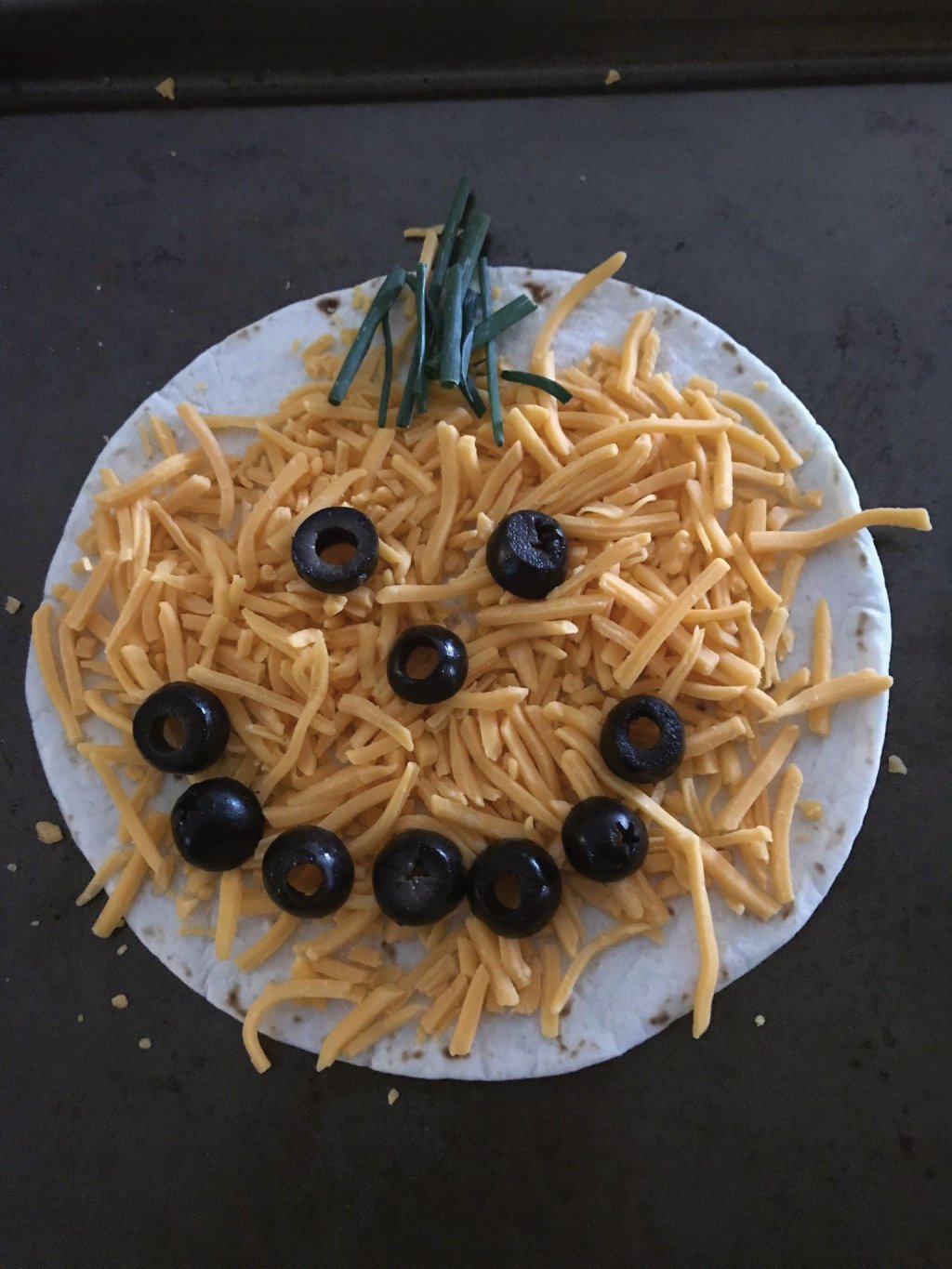 Cutie oranges peeled and decorated with celery leaves to look like pumpkins.
We used purple organic grapes on skewers to give our serving platter a finished look.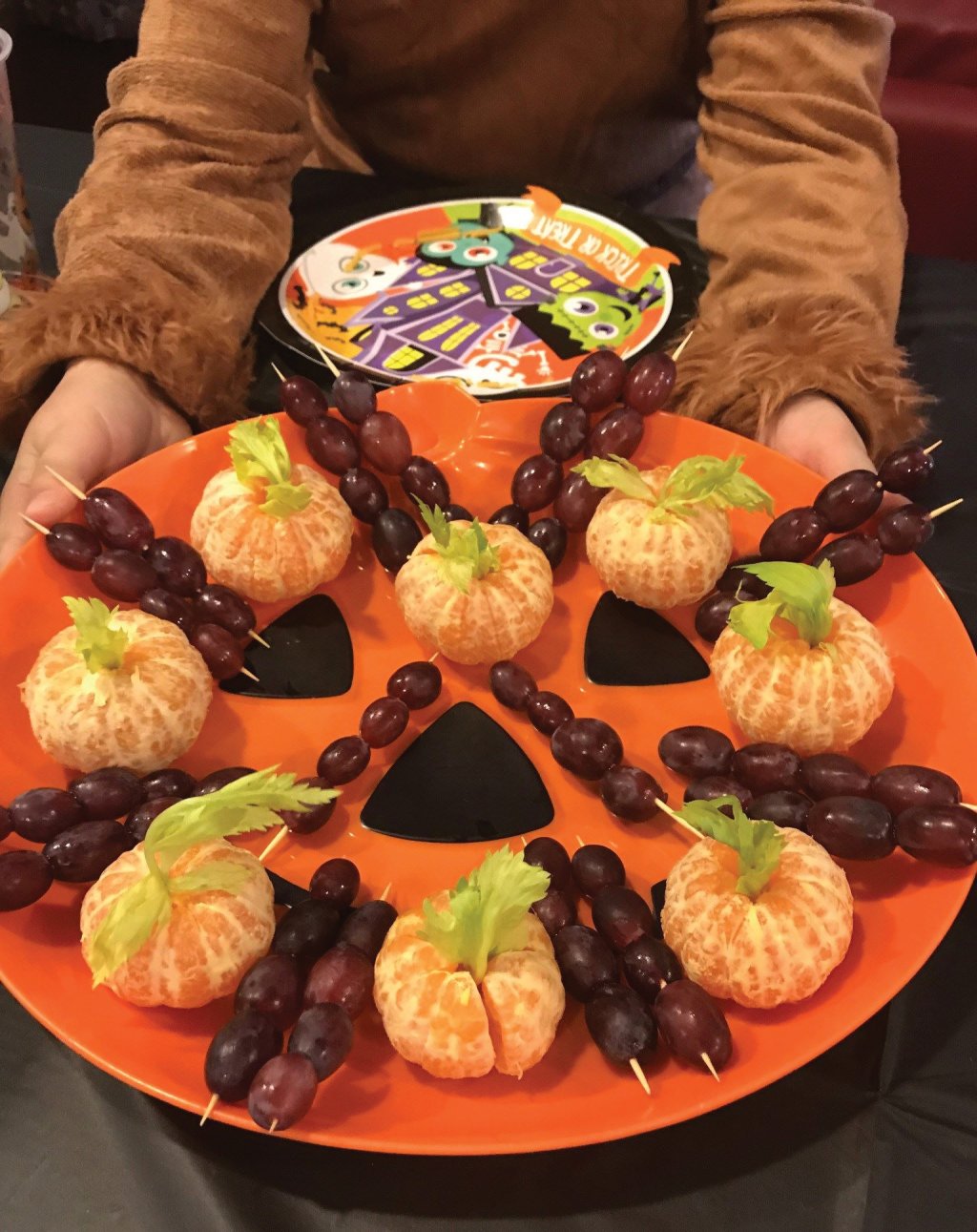 The left over celery we washed and cut and added almond butter and decorated with dried cranberries.  I found a better finished version of this on-line

Unfortunately, I did not have all the ingredients, but if you do I would suggest these instead.
We made witches brooms with cheese sticks Snyders GF pretzels wrapped with the chives.  There are many varieties of these on-line we used chives already cut and ready to go much easier and faster prep time.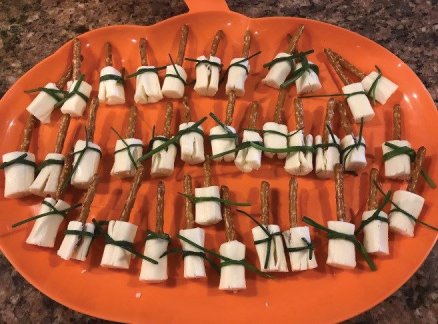 And of course our magic potion station!  The kids always love this!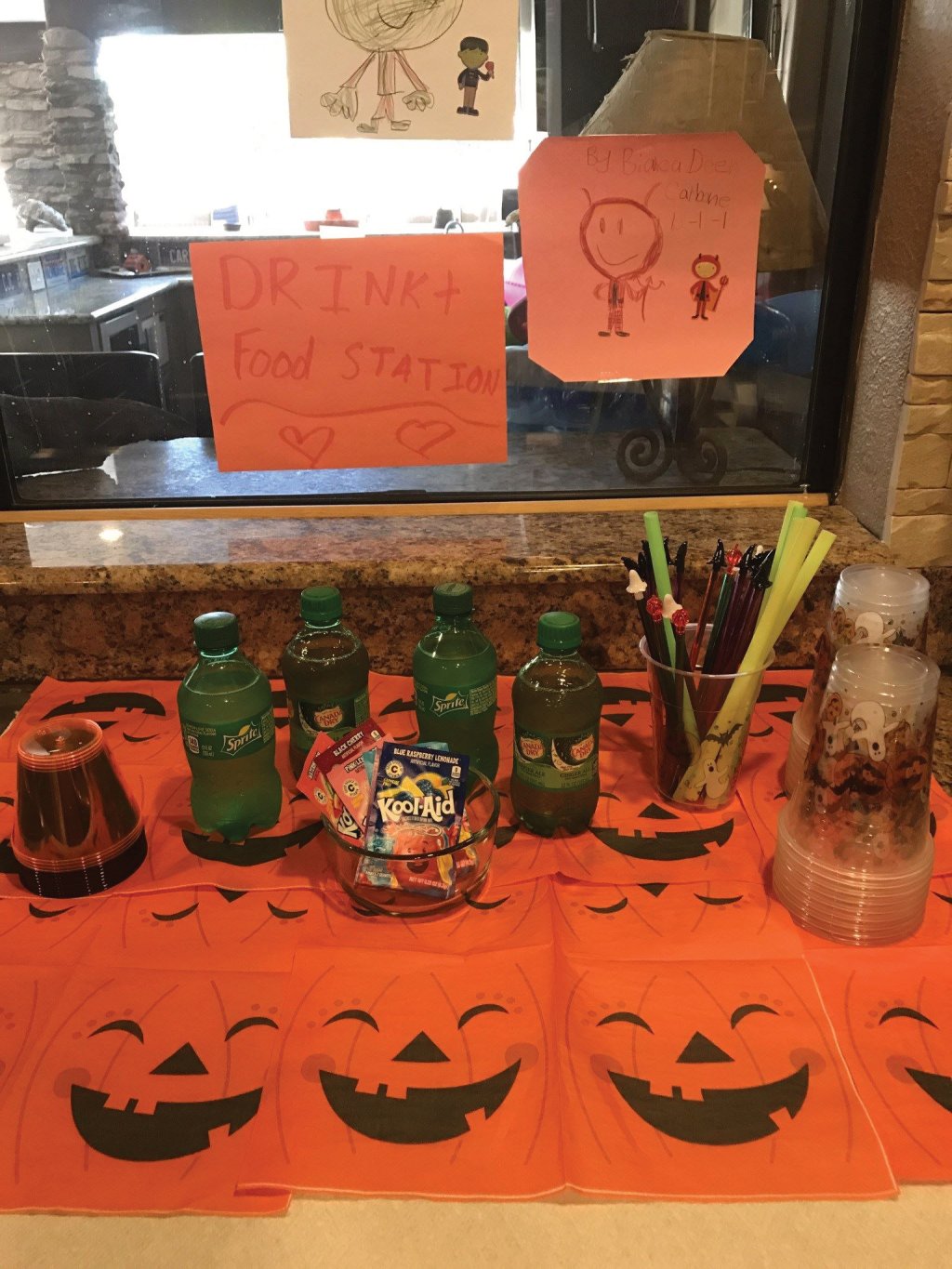 We made rice krispie treats, instead of cutting them or shaping them into pumpkins, we made a silly pumpkin graveyard batch...definitely a time saver!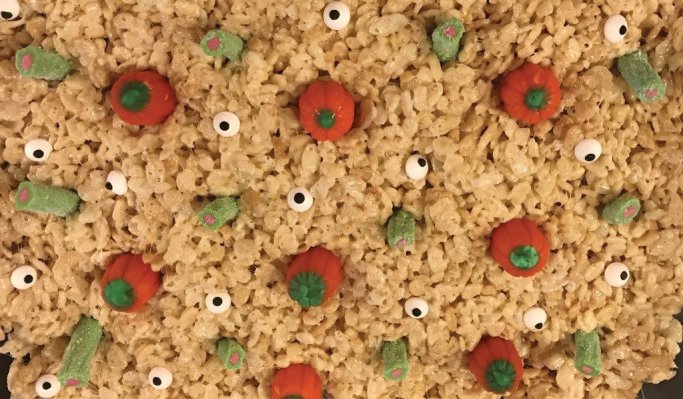 This years activities included decorating pumpkins, making slime and Halloween #Mad Libs. 
Your local grocery should have small pumpkins for less than $1....and the kids love to decorate these.  We typically use stickers/pens/stamps or paint.  Whatever we have on hand.  Another way to save money on your party!
We love slime!! 
I found these containers at the dollar store so the kids could mix and take the container home.  No mess for me and the container is perfect for the slime so it doesn't dry out!  We always give a party favor to our guests.  These gifts were around $3.  Not bad for a pumpkin and slime!!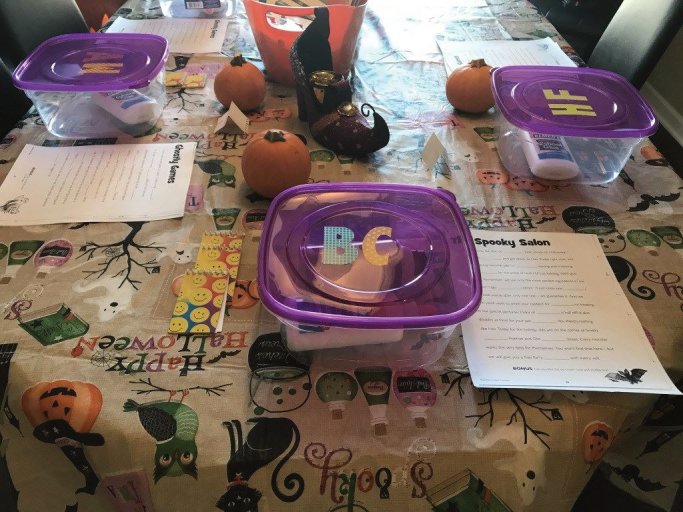 We love Highlights in our family.  The book we used for our mad libs is a wonderful book of Halloween Mad Libs from Highlights.  My daughter picked two out she wanted to do with her friends.  I made copies for the girls.  When they finished filling them in they each stood up and read to each other.  One thing I always do at our parties is include something educational.  This activity made the girls think and they also practiced reading and speaking in front of others.  Of course they don't realize this...because they are having fun too!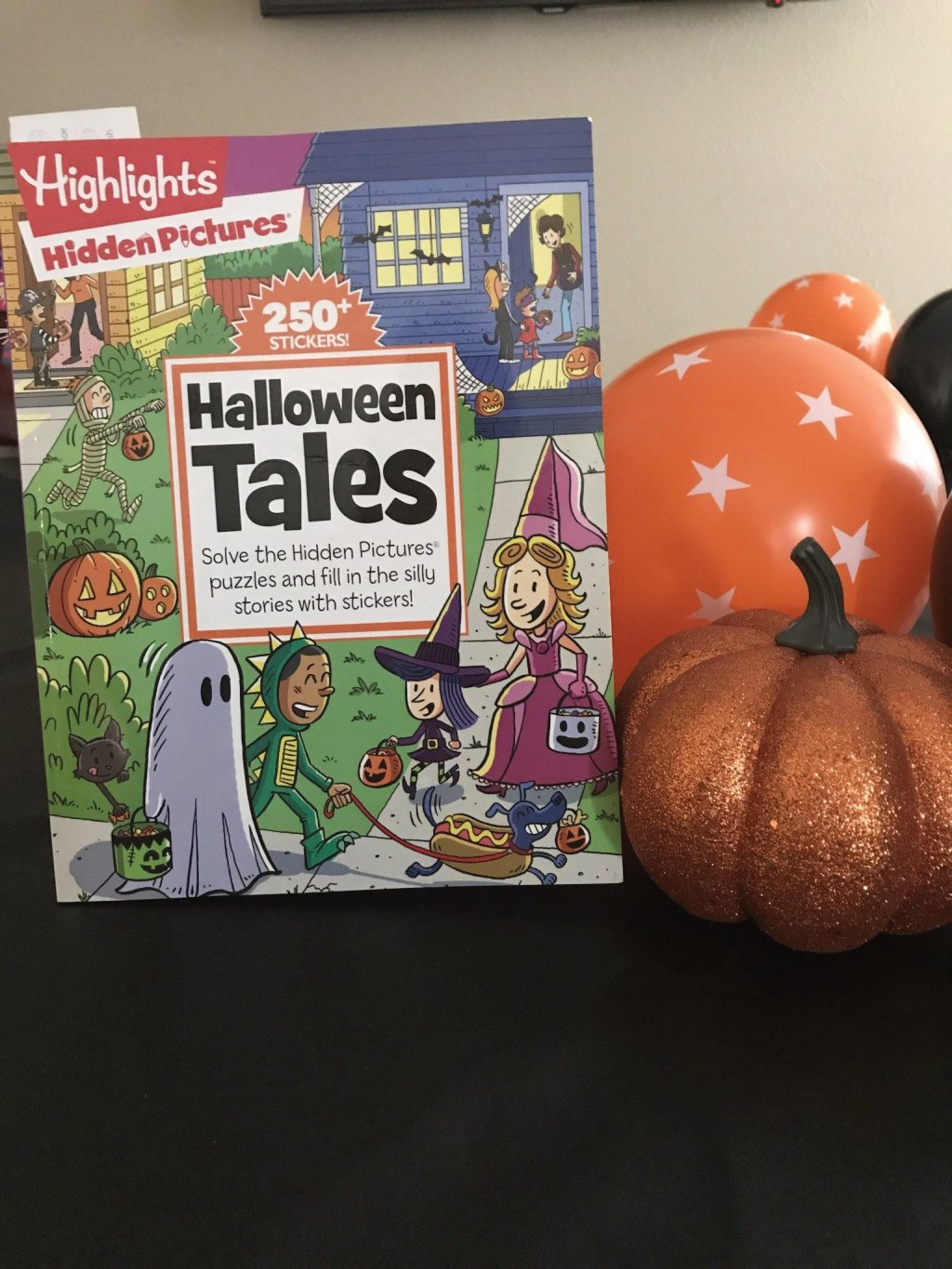 At the end of the day I received the best compliment ever!  One of the girls said to me that we throw the best parties ever!  #ilove it  It made our day!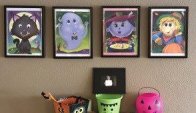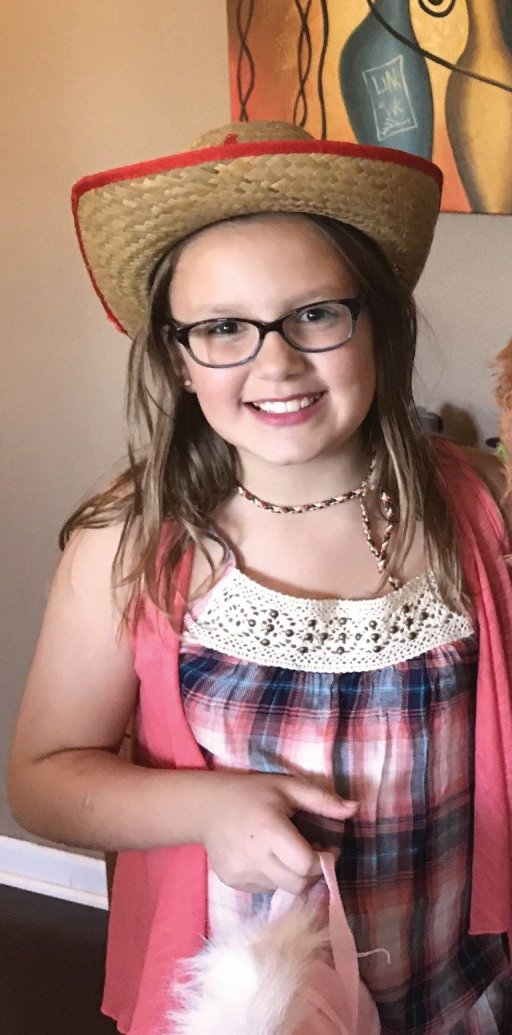 #Maketime & #Taketime to spend #qualitytime with your kids this #Halloween.  Whether you go all out or do a couple simple things.  It is this time, any time, that we spend with our kids, that makes a difference in their lives and yours and helps you to raise  #amazingkids 

 





#savorthemoment

 


All of my best!

Dyan

 


 


 


 

 


 


 


 


 





0

/