Shopping Cart
Your Cart is Empty
There was an error with PayPal
Click here to try again
Thank you for your business!
You should be receiving an order confirmation from Paypal shortly.
Exit Shopping Cart
Where Moms and Friends get together to share about kids and life

Grateful Pumpkin - #funeasyinexpensivekidcraft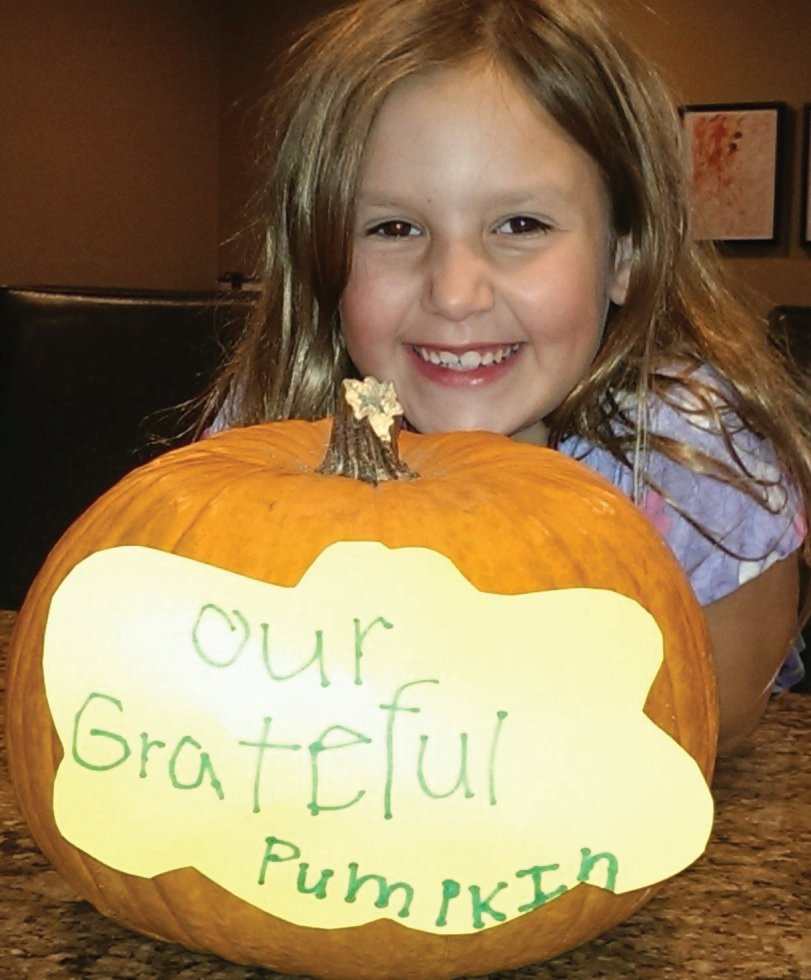 Our October was so busy with fun that we never had the chance to carve our pumpkins this year (or last...lol). I tried to squeeze in last week, but with everything we do in the last week of October it would have been forced and rushed. My daughter was fine with it because she had already decorated two pumpkins for Halloween and as the week quickly went by, I was already starting to think about what else I would do with these pumpkins. The idea of #gratefulpumpkin came to me and I was more excited about these than carving...so that's what we did!
What we used to create our #gratefulpumpkin:
1. A pumpkin (any size but bigger let's you write more things you are #grateful for - which is so important to teach your kids being #grateful)
2. Fall color construction paper
3. Glue stick
4. Sharpies
5. Scissors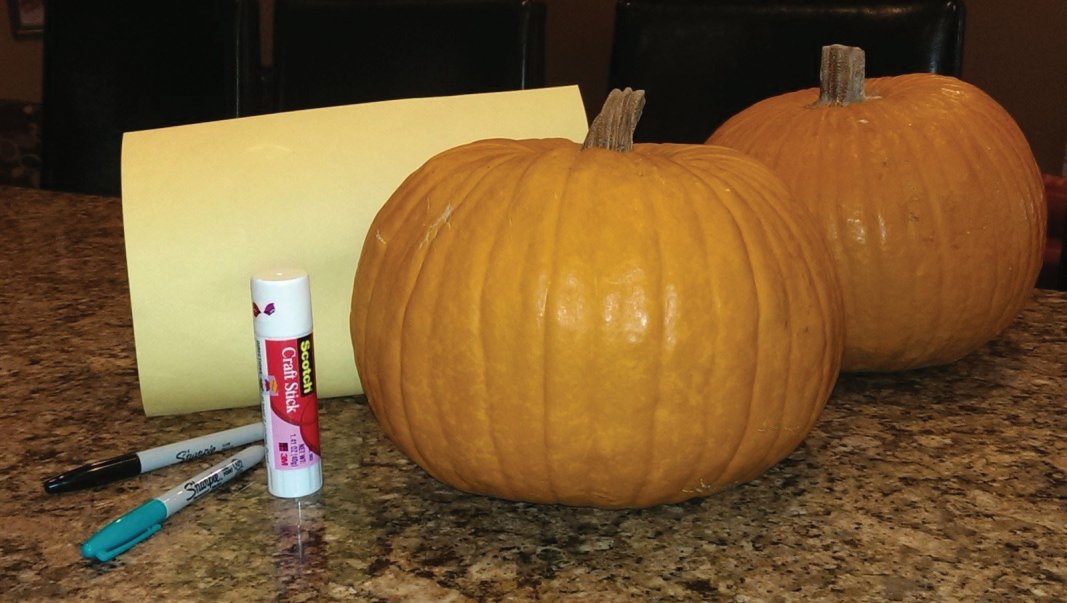 Cut a pretty design out of your construction paper. If your child can write have them write Our #GratefulPumpkin on paper, if not you can write. Glue to front of pumpkin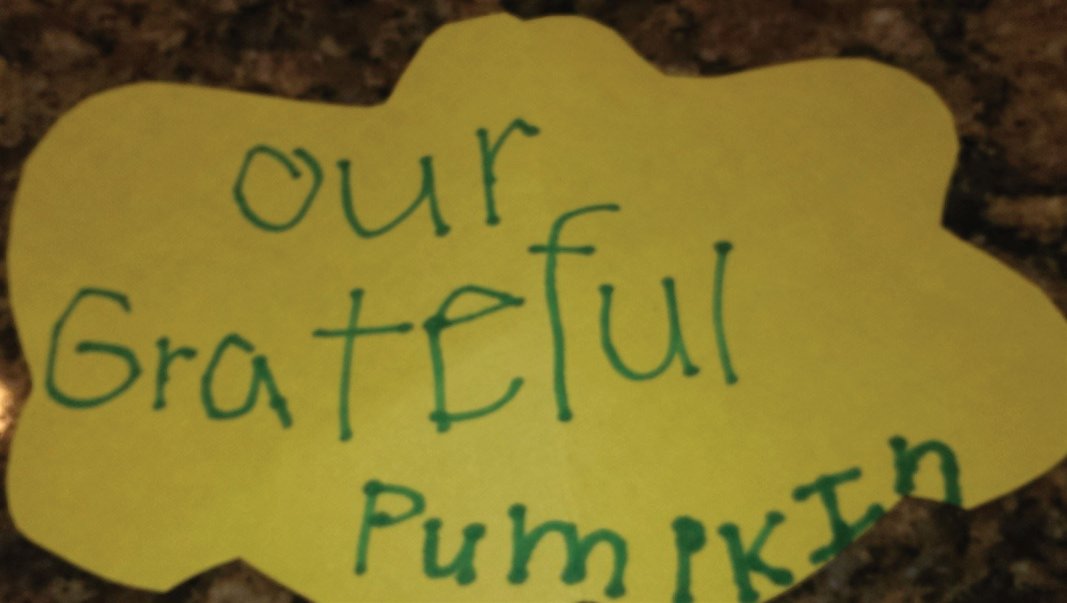 Have each person in your family write something you are #grateful for and add one thing everyday. By the end of the month you will have many things that you and your child are #grateful for and can reflect on each day. That's it!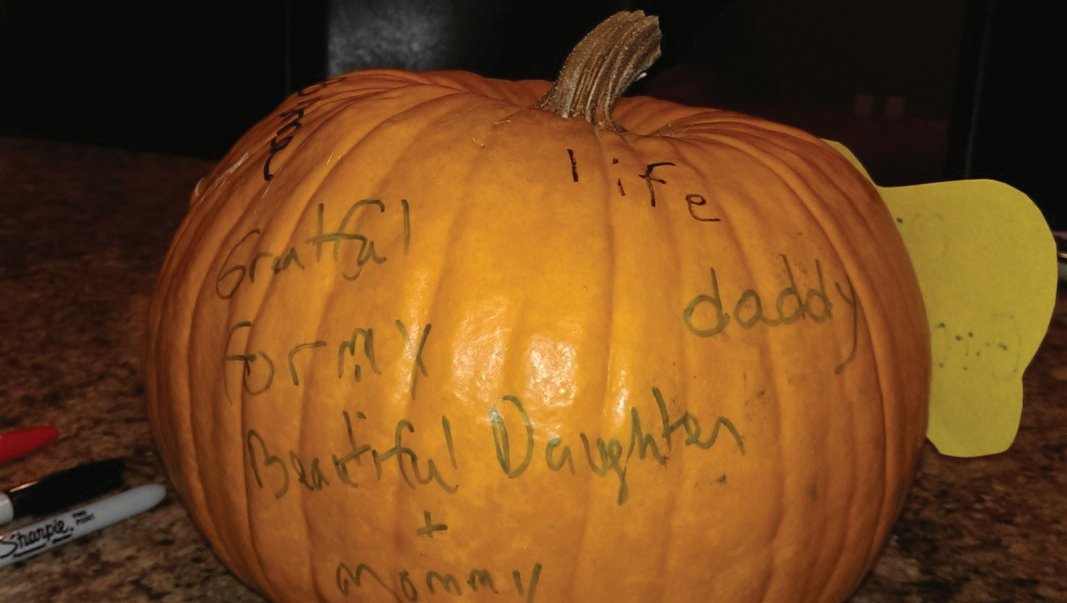 What we learned: How to #reuse items around the house, the use of scissors, practice writing, spelling and being #grateful of course!
What we shared: Creativity, fun, discussing what #gratitude is and why being #grateful for the wonderful people and things in our lives is so important, quality time and memories.
My husband even got in on our #grateful pumpkin which is atypical for him to join in on our moms,kids and friends stuff. #ILoveit....this became a family thing.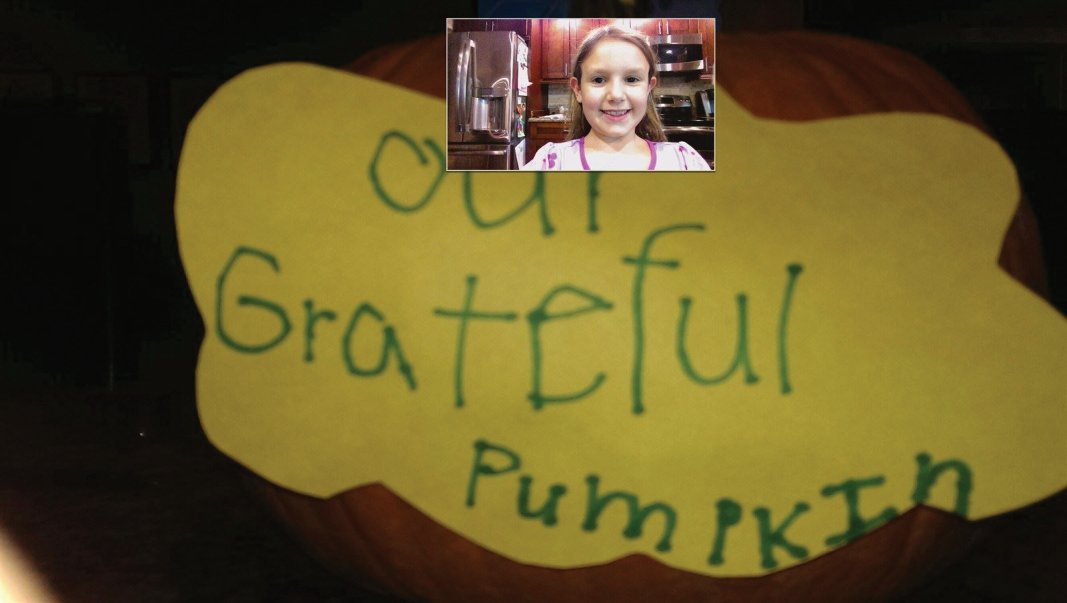 #Makethetime and #takethetime today to share time with your family and talk about #gratitude, what your #amazingkids are #grateful for, what you are #grateful for and the importance of #gratitude!
I am excited to hear my daughters responses each day. We have one rule. If it is already on the pumpkin and another family member has written it, we can not repeat what we are #grateful for, but have to come up with something new.
My daughter is so excited about this simple and fun way to express her #gratitude, she said she wants to come up with two things everyday!
MAKE IT YOUR OWN, MAKE IT FUN, JUST MAKE IT!!
You'll be glad you did! 
All of my best. May you have a wonderful start to this November. Dyan
#momskidsandfriends
There are still 4 days left to learn....let's #combatcancer together!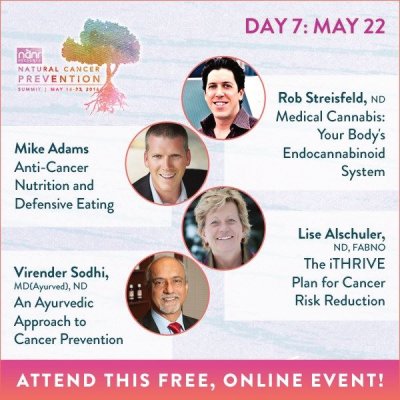 Your link to the order page: https://qt247.isrefer.com/go/NCP16order/dyancarbone/
I think everyone I know knows someone who has struggled with cancer either as an immediate family member or friend.  The statistics are staggering...but the good news is we can prevent cancer!  Please join me in learning ways on how we can prevent cancer.  My dear friend Razi Berry, publisher of Naturopathic News and Review (NDNR) has made it her mission in life to share her extensive wealth of information on finding ways to better take care of ourselves.  She has spent countless hours in preparing and working with some of the leading Naturopathic physicians in the world.  I believe you will find and hoping you will find this information so useful it will change the way you live and teach your kids on how to live in a cleaner healthier way!  I hope you enjoy the information!!
Add this health wisdom to your cancer-preventing medicine cabinet!
The Natural Cancer Prevention Summit starts on May 16th, and tens of thousands will learn from the expert wisdom so important to preventing cancer-causing environmental, nutritional and stress-related risk factors in order to protect your health and wellness.
Will you be there?
At The Natural Cancer Prevention Summit you'll:
Learn from experts in natural and preventive medicine
Discuss real and didactic ways to prevent cancer
Discover best practices to help you and your family stay healthy
Learn what truly protects health and creates wellness
And much more!
Register immediately to make sure you'll see the free talks:


registration: https://qt247.isrefer.com/go/NCP16aff/dyancarbone/


Purchase all of the expert talks (price GOES UP when the event STARTS on MONDAY):
Your link to the order page: https://qt247.isrefer.com/go/NCP16order/dyancarbone/


Once you own the expert talks, you can listen to the audios on your computer or mobile device, read the complete transcripts and share this important information with family and friends.
If you learn even one fact from one expert that changes your life, it will be worth it!
The online access package for all 30+ expert talks is $59 now through Monday morning at 10 A.M. U.S. eastern.
After that, it increases to $79.
Owning the talks also gives you access to eCourses, guides, eBooks and other advice from the expert speakers, at no additional charge!
Click here to learn more about owning this expert advice:
Your link to the order page: https://qt247.isrefer.com/go/NCP16order/dyancarbone/


See you at the summit!
All of my best!  Hoping this information will help you and your families  learn more on how to prevent cancer and that you will learn new ways to change your life to live the best life you can live for you and your kids!!!  Make the time and take the time to make a change today!!  Dyan
#Music and #kids go together so well!
#childrensmusic
Let music #inspire you to do something fun with your kid today!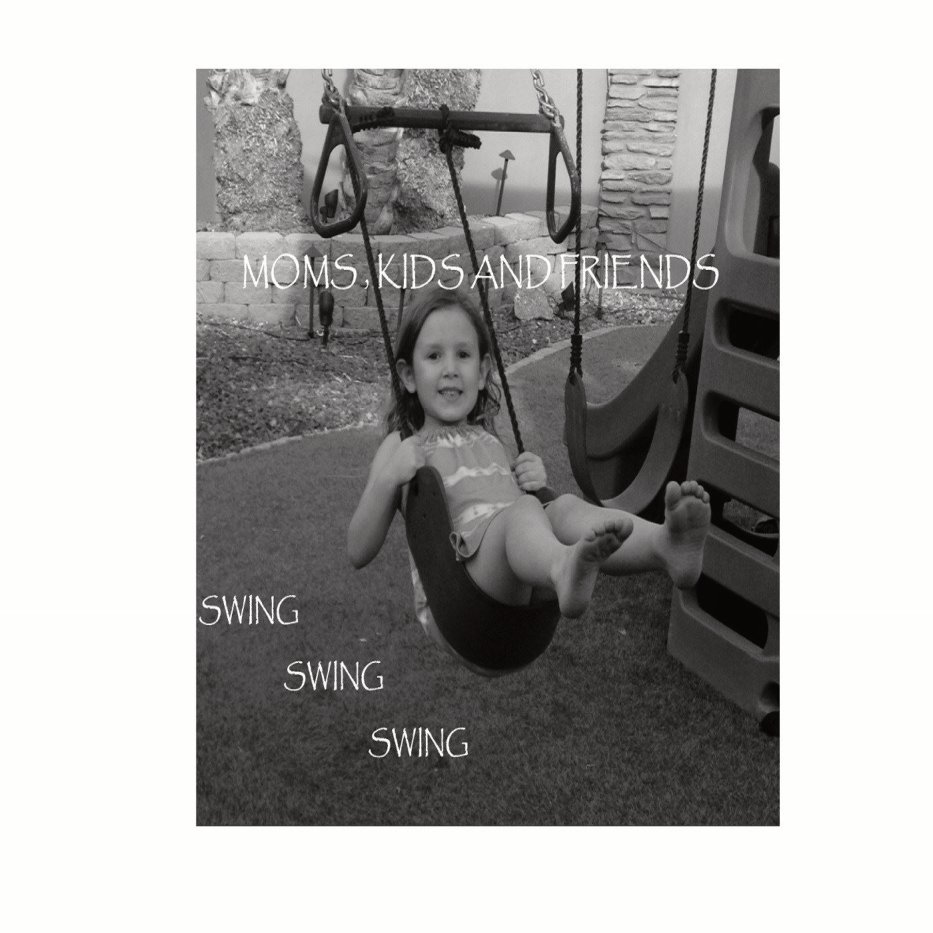 SWING, SWING, SWING  IS NOW AVAILABLE FOR PURCHASE                                                     

                                           ON iTUNES

(enter swing, swing, swing moms, kids and friends in search field)




OR CLICK ON EITHER LINK BELOW:
















 I've always loved #music for the joy it brings into my life.   #Music can bring you back to special times in your life, it book marks special events in your life, it can #inspire, it can make you happy, it can make you sad, it can make you think, move, sing, motivate, bring people together...the list goes on and on!  #beinspired




What I like most about #music is the joy it brings my daughter and I when we are playing, dancing, singing, doing chores or learning new things. There's nothing better then listening to music to make everything just right!   

My daughter has #inspired me to incorporate more music into our lives.  I love it and more importantly, she loves it too!  It has helped me teach her important things about her life and environment.   

I realized when she was just a baby how #music made everything better, taking baths, playing and learning.  She responded so well to simple everyday tasks when I would put them to song.  As she grew, she started helping sing the many songs that we still sing today.  I love #music and have instilled in her this same love of #music.  I am thrilled that she loves #music!  She is learning how to play the piano and sings just about everywhere she goes.  #Music to us is fun, #inspiring, positive, motivational, reflective, nurturing and makes everything better. 

I have released my first single and it it now available on iTunes, cdbaby.com and amazon music.  

You can check it out on my face book page too:  

under music player.  

Swing Swing Swing (the opening #music on moms kids and friends)is a song about playing at the play ground with friends while enjoying all the beauty around you.  Take a listen, I think you will love it!  I do have to warn you though, it's very fun, catchy and will definitely want to make you get up and dance or swing at the park  and you will probably be singing it for the rest of the day.  




Download it, listen, dance and sing with your #kid....#beinspired and get ready to get your happy on....you'll be glad you did.  All of my best to you, Dyan




#Music and #kids...go together so well! 

#childrensmusic







SWING, SWING, SWING  IS NOW AVAILABLE FOR PURCHASE                                                     

                                           ON iTUNES

(enter swing, swing, swing moms, kids and friends in search field)




OR CLICK ON EITHER LINK BELOW:






















0

/