Shopping Cart
Your Cart is Empty
There was an error with PayPal
Click here to try again
Thank you for your business!
You should be receiving an order confirmation from Paypal shortly.
Exit Shopping Cart
Where Moms and Friends get together to share about kids and life

There are still 4 days left to learn....let's #combatcancer together!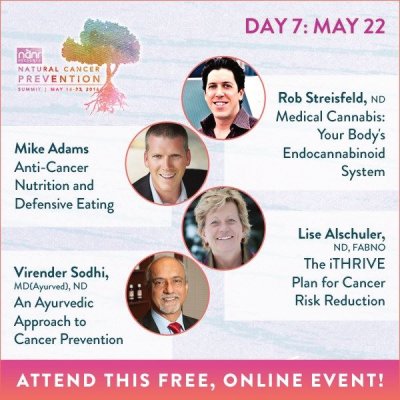 Your link to the order page: https://qt247.isrefer.com/go/NCP16order/dyancarbone/
I think everyone I know knows someone who has struggled with cancer either as an immediate family member or friend.  The statistics are staggering...but the good news is we can prevent cancer!  Please join me in learning ways on how we can prevent cancer.  My dear friend Razi Berry, publisher of Naturopathic News and Review (NDNR) has made it her mission in life to share her extensive wealth of information on finding ways to better take care of ourselves.  She has spent countless hours in preparing and working with some of the leading Naturopathic physicians in the world.  I believe you will find and hoping you will find this information so useful it will change the way you live and teach your kids on how to live in a cleaner healthier way!  I hope you enjoy the information!!
Add this health wisdom to your cancer-preventing medicine cabinet!
The Natural Cancer Prevention Summit starts on May 16th, and tens of thousands will learn from the expert wisdom so important to preventing cancer-causing environmental, nutritional and stress-related risk factors in order to protect your health and wellness.
Will you be there?
At The Natural Cancer Prevention Summit you'll:
Learn from experts in natural and preventive medicine
Discuss real and didactic ways to prevent cancer
Discover best practices to help you and your family stay healthy
Learn what truly protects health and creates wellness
And much more!
Register immediately to make sure you'll see the free talks:


registration: https://qt247.isrefer.com/go/NCP16aff/dyancarbone/


Purchase all of the expert talks (price GOES UP when the event STARTS on MONDAY):
Your link to the order page: https://qt247.isrefer.com/go/NCP16order/dyancarbone/


Once you own the expert talks, you can listen to the audios on your computer or mobile device, read the complete transcripts and share this important information with family and friends.
If you learn even one fact from one expert that changes your life, it will be worth it!
The online access package for all 30+ expert talks is $59 now through Monday morning at 10 A.M. U.S. eastern.
After that, it increases to $79.
Owning the talks also gives you access to eCourses, guides, eBooks and other advice from the expert speakers, at no additional charge!
Click here to learn more about owning this expert advice:
Your link to the order page: https://qt247.isrefer.com/go/NCP16order/dyancarbone/


See you at the summit!
All of my best!  Hoping this information will help you and your families  learn more on how to prevent cancer and that you will learn new ways to change your life to live the best life you can live for you and your kids!!!  Make the time and take the time to make a change today!!  Dyan
Halloween Trick-or-Treating doesn't have to be all about consuming too much sugar and all the unnatural additives in today's candy; it actually can be morphed into a learning experience for the whole family! NaturalPath has come up with a few suggestions. By Razi Ann Berry
Eat before you Treat: Want to stop the instant reach for that first candy bar? Try feeding your child a full meal with balanced protein and carbohydrates before you set out the door. Bring along snacks such as pumpkin seeds and nuts, or fall fruits such as apple slices to prevent kids from dipping into the candy bag. By balancing protein and carbs, you provide their bodies with energy and muscle-building material that will counter-balance each other to keep blood sugars stable and cravings in the background.
Make a Naughty List: Don't allow your child to immediately dig into the bag of treats. Make sure your kids wait until they get home and you can inspect the candy that has been collected before you allow them to eat it. Before that first wrapper is removed, inspect the candy for expiration dates, punctures to the wrapping and types of candy on your "no" list. Write down prime ingredients to read to your child that you know are unhealthy – such as high fructose corn syrup. Count how many "bad" ingredients you find on the list.
Explore and Observe
: Science experiments with candy can be shockingly fun. Ideas such as leaving a Skittle in water and seeing the "S" float to the surface or putting a Mentos in a bottle of coke and watching it spin can be found at 
http://www.candyexperiments.com.
Inspect: Another way to turn Trick or Treating into an educational experience is to look up ingredients on the candy label together with your child. Together you can learn what compounds such as "dimethicone cross polymer", "soy lethicin", "red number 6" or "invert sugar" really are, and what they do in your body.
Quid Pro Quo: Set up a trade agreement for the candy, either monetary or prize-oriented such as a book. This will teach them bartering. Perhaps match the reward with the calorie content of the candy – again, this will take label reading or Internet searching, both good skills to develop.
Halloween is only a day away!  I was very excited about this post from a dear friend and editor of Natural Path and wanted to share with all of you.  She is also my first guest blogger and I am thrilled!  She has taught my family so much about good nutrition!  Here is a link to her sight which I am sure you will love!  http://thenatpath.com/   
My daughter being a natural scientist will love trying these! Can't wait to explore, observe and inspect! Make it a safe, fun and educational Halloween!!  You'll be glad you did.  All of my best, Dyan
/