Shopping Cart
Your Cart is Empty
There was an error with PayPal
Click here to try again
Thank you for your business!
You should be receiving an order confirmation from Paypal shortly.
Exit Shopping Cart
Where Moms and Friends get together to share about kids and life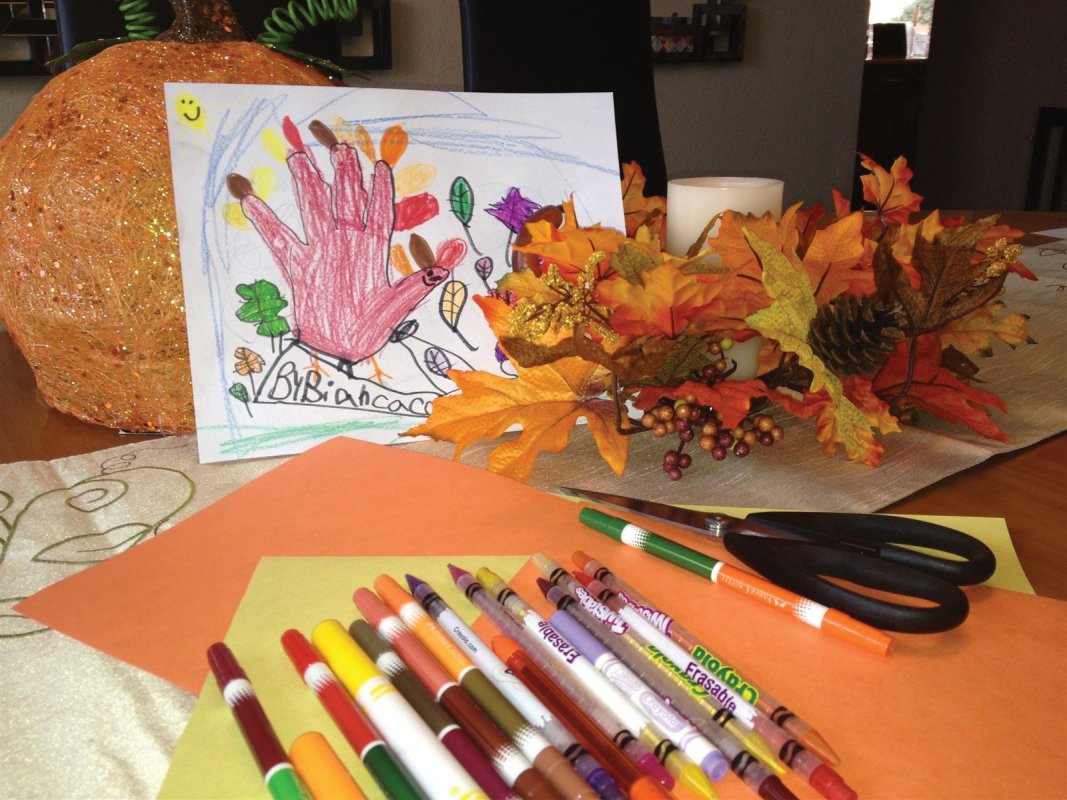 This is a repost from last year...and I still love these so I had to share again.  They were such a hit last year at the dinner table every guest felt special and loved the fact that my daughter created each one especially for them!!  My daughter and I loved these so much that we are using again this year for our guest place mats.  A #Thanksgivingcraft to treasure and keep!!  They are fun, easy and inexpensive to make (my motto)...What better way to show your children's love and #gratitude for their family and friends by creating unique place mats for all of your guests on #Thanksgiving Day!
What you will need to create these special take home treasures:
1. Orange, brown, yellow or white construction paper.
2. Different colored pencils, markers, crayons to create their masterpieces.
3. Scissors if paper needs to be trimmed to fit your laminator.
4. Miscellaneous Thanksgiving stickers (optional).
5. Paper laminator.  Caution:  adult should always supervise this activity as the laminator gets very hot!  If you do not have a laminator, you could use a thicker paper (i.e. poster board or paper cover sheets/pre-laminated sheets purchased at any office supply store.
6. Your child's imagination.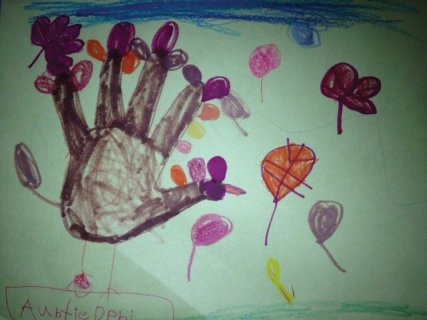 Create each place mat unique for each guest.
Use your child's hand to trace to make the turkey.  Then have them decorate, color or use stickers to make as intricate as they choose. You can label each place mat and then use them as place cards too!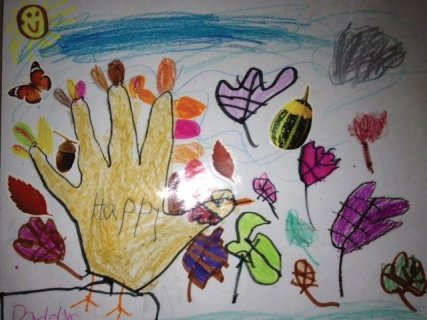 What we learned:
  Lots of stuff!  How to use our hands to make turkeys, how to draw leaves, colors of #Thanksgiving and fall, practiced hand writing names, worked on letters and spelling, practiced writing name, creativity, strengthening hands by cutting, using the laminating machine and practiced safety lessons.
I love crafts that reinforce learning!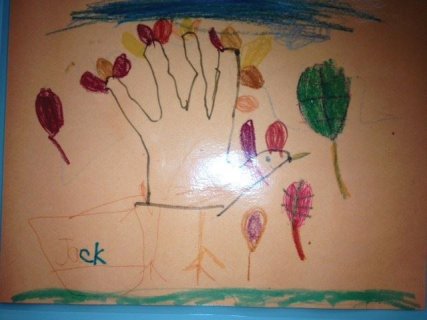 What we shared:
  Lots of fun!  Getting into the holiday spirit, memories, useful craft that we will have many uses (a #Thanksgiving Day card, place mat, place card and take home gift for our guests), creative ideas and a fun afternoon of spending time together.
May your #Thanksgiving holiday be filled with peace, blessings and many things to be #grateful for....may you take the time to enjoy the time with your family, friends and kids.  Grab some paper and create some special memories this #Thanksgiving and make these place cmats.  They are easy, fun and inexpensive to make.  #Thanksgiving blessings to you and yours.   All of my best, Dyan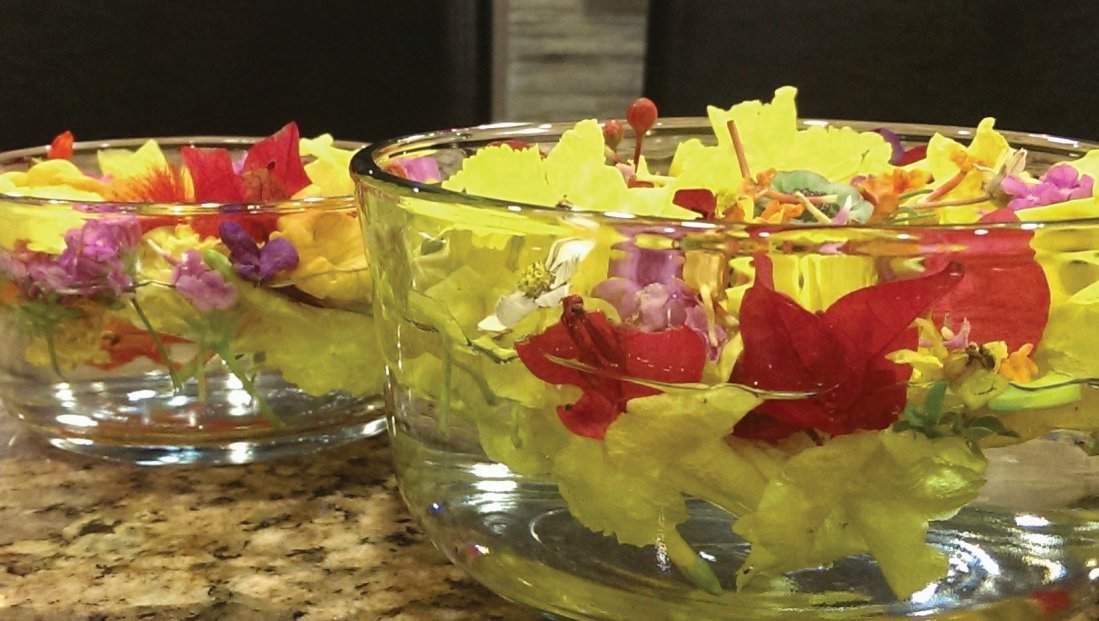 Yesterday, my daughter and I decided to take a #naturewalk with some friends.  The two girls were going crazy stopping and picking every wildflower and #flower from every bush, plant and tree they could find.   It was a beautiful fall day and I was #thankful for the moment spent with my child and friend.  My friend and I delighted in watching our daughters enjoy the #naturewalk as much as we did. 
I didn't realize that my daughter had picked so many #flowers until we arrived home and I asked her to take them out of her back pack before they all died and wilted.  She asked me for a bowl to put them in water.  She took her time arranging each and every #flower as if she was working on a masterpiece.  I guess in away she was, her masterpiece, she took each #flower one by one and delicately arranged them in each bowl.  At one point, she told me she even wanted to be a florist as well as a vet when she grows up!
As you can see, she arranged them beautifully!!  We have set them out on our kitchen  table to enjoy!  I don't think my friend did, but that is ok....this is our "thing"  making something out of something to enjoy without spending any money.  Stopping and smelling the roses of life.  Taking the time and making the time together to create memories that last a lifetime.  Making us both better, #momskidsandfriends.  
We are fortunate enough to live, where there are still wildflowers and #flowers on bushes and trees.  If you live somewhere where there are no #flowers still blooming, still take the #naturewalk and see what amazing things you can find..... leaves, pine cones, rocks or unique branches.  Take a #naturewalk, enjoy the day with your child and friend, take a moment to  enjoy life, enjoy #mothernature, enjoy each other, enjoy this wonderful place we call plant #earth. 
It's #thankfulthursday What are you #thankful for?
All of my best,  Dyan
What we learned:  About different kinds of #flowers, bushes and plants,  not to pick #flowers from someone's yard - unless you ask of course!  Spending time with friends outdoors is refreshing and fun, more about our friends and what we have in common with others, arranging #flowers is fun, relaxing and makes a beautiful centerpiece for our kitchen table, having fun and learning does not need to cost money, putting down our cell phones is not only good for us but great for our kids!!  #nocellphoneforaday
What we shared:   A wonderful day together making memories, pictures of our #flower arrangements - we sent as a thank you note (w the picture) for the day spent w/ our friends.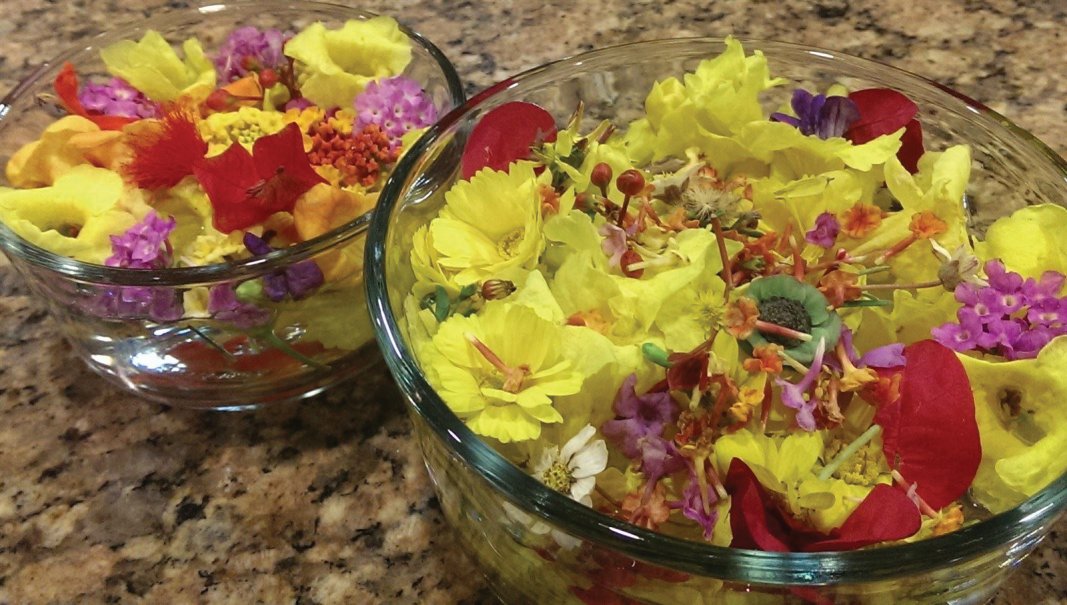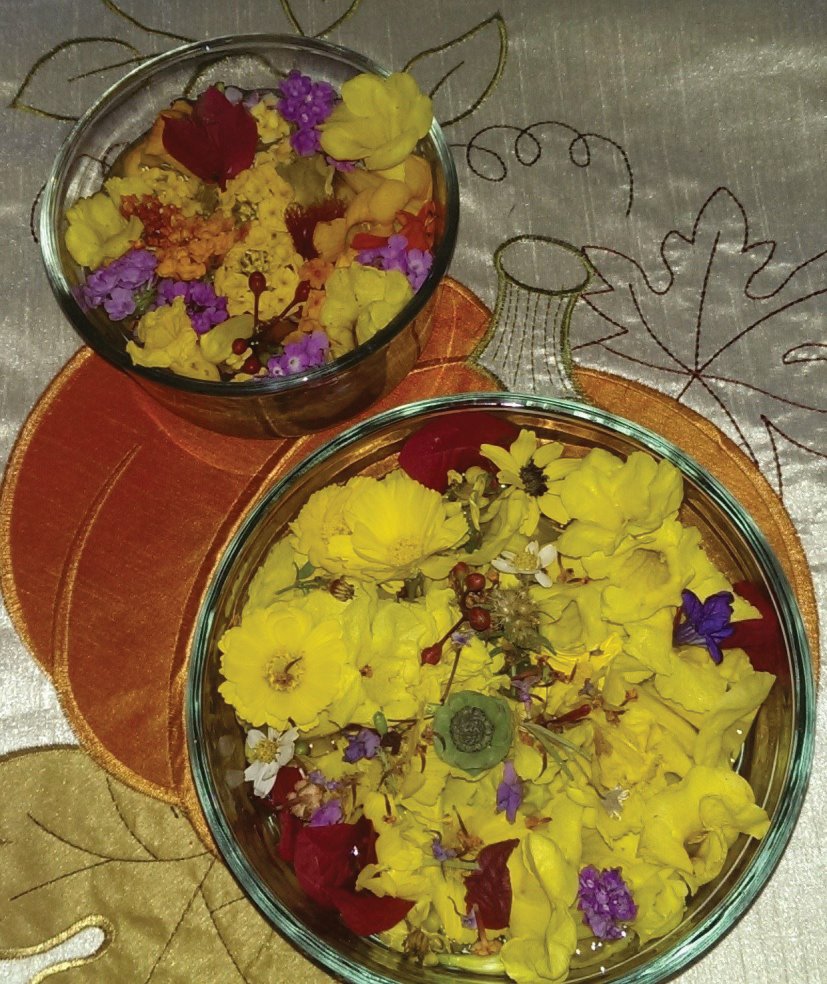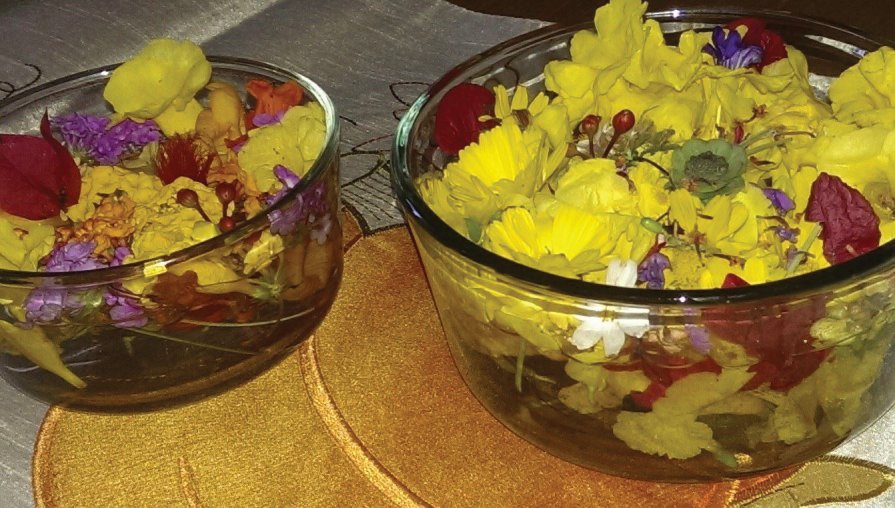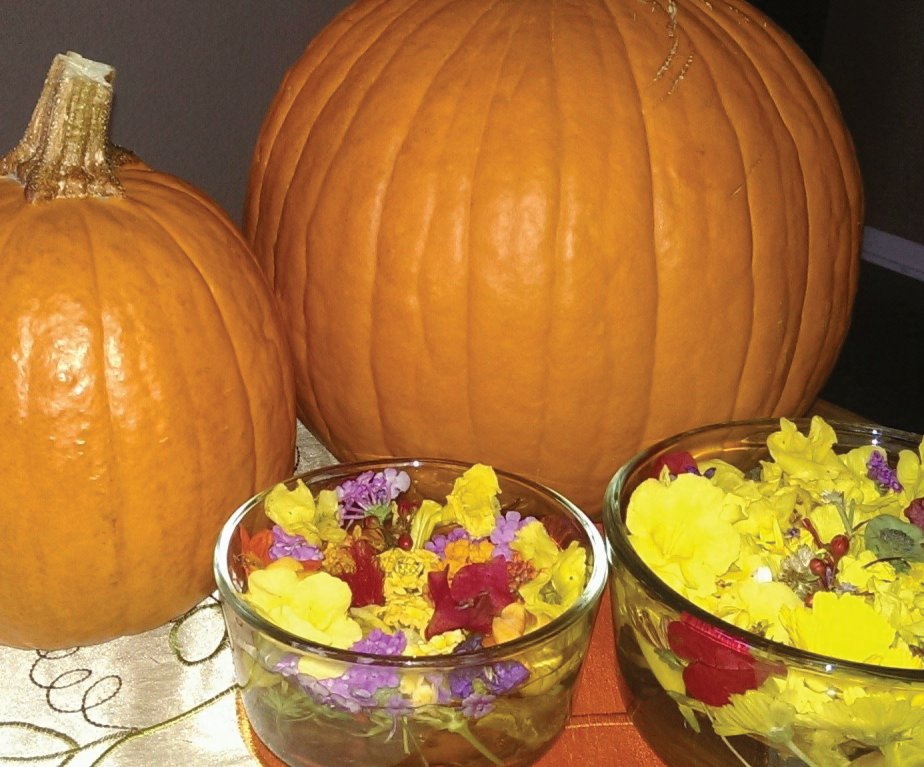 Halloween Trick-or-Treating doesn't have to be all about consuming too much sugar and all the unnatural additives in today's candy; it actually can be morphed into a learning experience for the whole family! NaturalPath has come up with a few suggestions. By Razi Ann Berry




Eat before you Treat: Want to stop the instant reach for that first candy bar? Try feeding your child a full meal with balanced protein and carbohydrates before you set out the door. Bring along snacks such as pumpkin seeds and nuts, or fall fruits such as apple slices to prevent kids from dipping into the candy bag. By balancing protein and carbs, you provide their bodies with energy and muscle-building material that will counter-balance each other to keep blood sugars stable and cravings in the background.




Make a Naughty List: Don't allow your child to immediately dig into the bag of treats. Make sure your kids wait until they get home and you can inspect the candy that has been collected before you allow them to eat it. Before that first wrapper is removed, inspect the candy for expiration dates, punctures to the wrapping and types of candy on your "no" list. Write down prime ingredients to read to your child that you know are unhealthy – such as high fructose corn syrup. Count how many "bad" ingredients you find on the list.




Explore and Observe

: Science experiments with candy can be shockingly fun. Ideas such as leaving a Skittle in water and seeing the "S" float to the surface or putting a Mentos in a bottle of coke and watching it spin can be found at 

http://www.candyexperiments.com.




Inspect: Another way to turn Trick or Treating into an educational experience is to look up ingredients on the candy label together with your child. Together you can learn what compounds such as "dimethicone cross polymer", "soy lethicin", "red number 6" or "invert sugar" really are, and what they do in your body.




Quid Pro Quo: Set up a trade agreement for the candy, either monetary or prize-oriented such as a book. This will teach them bartering. Perhaps match the reward with the calorie content of the candy – again, this will take label reading or Internet searching, both good skills to develop.




Halloween is only a day away!  I was very excited about this post from a dear friend and editor of Natural Path and wanted to share with all of you.  She is also my first guest blogger and I am thrilled!  She has taught my family so much about good nutrition!  Here is a link to her sight which I am sure you will love!  http://thenatpath.com/   




My daughter being a natural scientist will love trying these! Can't wait to explore, observe and inspect! Make it a safe, fun and educational Halloween!!  You'll be glad you did.  All of my best, Dyan

0

/