Shopping Cart
Your Cart is Empty
There was an error with PayPal
Click here to try again
Thank you for your business!
You should be receiving an order confirmation from Paypal shortly.
Exit Shopping Cart
Where Moms and Friends get together to share about kids and life

This is a repost from a past #Halloween.  I just loved doing this so much I had to repost!!  It is wonderful to look back and see our #HappyHalloween families (ghosts, monsters and pumpkins) come together for a super cute, inexpensive and fun #DIY #Halloween decoration.  Store bought is easy because you just put it up and your done.  But making these #funeasyinexpensivekidcrafts brings memories that last a lifetime!!   Also bringing a sense of accomplishment to your child and a real feel of holiday traditions that you can create together.   I hope you enjoy making them as much as my daughter and I did.   All of my best, Dyan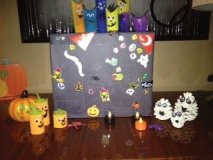 Even if your kids are too young to go to a Haunted House you can still create one at home and it doesn't have to be scary either.  My daughter is getting older and is starting to understand all about #Halloween and loved doing all the #Halloweencrafts We finished up our craft week with a Haunted House that goes with all of our other Happy ghouls.  We then displayed it on a table and it really turned out to be a super cute #Halloween decoration/centerpiece for our buffet table.  This craft is fun, easy and inexpensive my motto! 
#Whatwelearned -  Measuring and cutting. How messy glue can really be. Being creative is total #kidfun
#WhatIlearned - My daughter can draw her very own haunted house and didn't need my help!!! She also spelled Boo on her own and is getting quite good at drawing ghosts all by herself. A happy moment for both of us.
All you need:  Small to Large size box (we used a medium one), several pieces of black construction paper, scissors, glue, white marker or crayon, miscellaneous Halloween stickers (foam or regular or both) and some small tea lights for the walkway.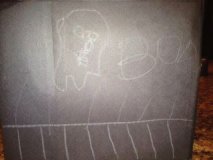 How to:
Fit black paper by cutting to size and glue around the box.
Take your white crayon and (depending on how old your child is) let them draw their own version of a haunted house, add windows, doors, a fence, trees, what ever inspires you or your child.
Add tea lights for a special touch.
Your done!
#inspireyourchild  raise #amazingkids

Here we go again...another #Halloween. Can't wait to make our #Halloween Haunted house again this year! I hope you take the time to spend #qualitytime with your #amazingkid this #Halloween.

Love, love, love these gingerbread houses! We have bought these before for other holidays. They are easy to use and your kid has so much fun decorating!

Haunted Gingerbread House by Create a Treat. See link on my links page
Chocolate gingerbread!

Easy to assemble.
The easy to use base and the icing hold the gingerbread house in place. It doesn't cave in or fall like others I have made.

First step complete.
What I love about this cookie craft is that my daughter can make it her own, unique design.

She even mentioned to me on several occasions that she doesn't have to decorate it like the picture on the box.
What kids learn:

Patience in building the ginger bread house with the frosting base and waiting for it to dry before decorating.
Tracing of lines while applying the frosting on windows, roof, doors, etc.

Builds strength in their little hands that will help with writing or other activities.
Using color and different items to decorate and make patterns or own designs.

My daughter used opposites and numerical matching items to decorate windows and roof.
What we shared: An evening of fun creating our own happy haunted house!

Laughs, #qualitytime, memories, a new family tradition and patience in taking turns.
Haunted houses don't have to be spooky!

Back view
Take the time today to spend #qualitytime with your #amazingkids. Whether you make a Haunted Gingerbread House, make holiday cookies or another holiday craft. I love to do things like this with my daughter. She has learned so much from everything we do together. We don't look for perfection in our crafts, we don't always use the best materials (many times we use stuff from around our house) to me it is about spending time with my #amazingkid and teaching her something about everything. For her it is #qualitytime with her mom and learning new things. Kids need this to feel loved, special and build confidence. It is our job to do this and nurture #amazingkids! Take the time and make the time for your kids. You'll be glad you did.

Happy #Halloween week! Have a boo....tiful day! All of my best, Dyan
0

/