Shopping Cart
Your Cart is Empty
There was an error with PayPal
Click here to try again
Thank you for your business!
You should be receiving an order confirmation from Paypal shortly.
Exit Shopping Cart
Where Moms and Friends get together to share about kids and life

Click on the link above to hear my friend and fellow mom of 3 kids, Lauren, share her ideas on kids and accountability.
How many times, even as adults, do we not take #accountability for our actions?  Many times I am faced with situations where I have to stop and make sure I am taking #accountability for my actions.  Whether it is a choice we make at work, in our daily life or with your kid.  Take #accountability for your actions.  Teaching our kids to do this now will make them be better adults. They will be able to survive better in all areas of life.  The responsibility of taking #accountability will effect them personally, in school and then eventually in the business world.  There are many adults I know that do not take #accountability for their actions, as I watch in disbelief, I want to ask them "Are you kidding me?"  You can't tell you are the reason for that mistake or reaction to your action"....Now I am not perfect, nor do I pretend to be, but as I grow older, I have realized that taking #accountability makes me a better person, mother, wife and will teach my daughter to be a better kid, friend and eventually, adult.  #Makethetime and #takethetime and #teachyourkidstobeaccountable for their actions, no matter what the result of their action. 
#takethetime & #makethetime to #raiseamazingkids
Thanks for stopping by at Moms, kids and friends,  "Where moms get together and share ideas about kids and life".  All of my best, Dyan
De-stress Your Mornings to Make Your Holidays More Cheerful
Written by Daniel Sherwin                   
dadsolo.com
This is the time of year for joy and thanksgiving. It's also the time of year for stress. One thing that you can do to make your holidays less stressful is to create a morning routine that gets everyone up and on their way. Here are some tips: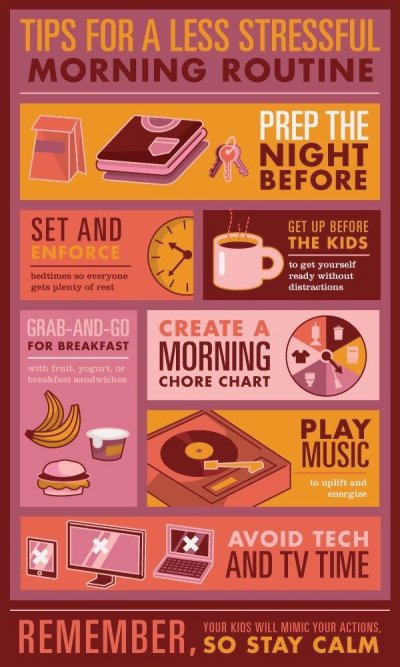 Image Source: DadSolo.com
Additional Holiday Morning Routine Resources:

1. Prep the night before and other tips on how to establish a morning routine for kids that actually works
2. Easy and effective home organization tips
3. De-stress your morning routine tips
4. Breakfast to go and other secrets to getting the kids to school on time
5. Get plenty of sleep and other tips on how to establish a morning routine for kids that actually works
6. Play music (Revolutionary morning routine hack for kids)
Now that you've figured out how to de-stress your morning routine, you're ready to take on the holiday challenges. Bake those cookies! Light those candles! Decorate and decompress.
You've got this covered!
Side note:  You do have this covered!  Thank you Daniel for your tips to keep our homes flowing with less stress and positive energy for our kids!  I hope you all enjoyed these tips!  Wonderful reminders on how to keep everything flowing in your mornings, but can easily be forgotten with everything going on in all of our lives!!
Remember to #makethetime & #takethetime to de-stress this holiday season.
To see more of Daniels ideas, please visit his website at www.dadsolo.com
#raiseamazingkids
All of my best,
Dyan
How To Help Your Child Cope With Cyberbullying In A New School
by Joyce Wilson                                                      
teacherspark.org

Moving is stressful at any age, but for children, the prospect of relocating and changing schools can be especially traumatic. Oftentimes, "the new kid" is subject to being picked on in the new school. To complicate matters, cyberbullying can be especially challenging for parents and kids alike. How do you help your child cope when bullying isn't happening face to face?
Here are some tips and tools to help.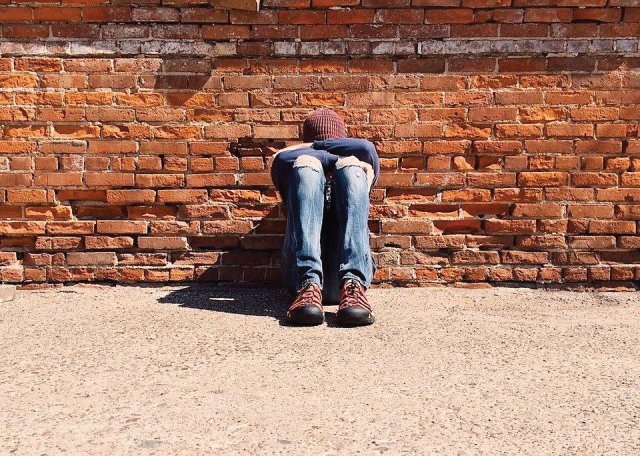 Being the new kid

Moving can be very stressful for children. Some experts recommend moving when there is already a planned transition, like after the school year completes or before entering high school.

Psychology Today

suggests that changes in the middle of the school year or in the middle of high school can be much harder.  Here are some great suggestions for helping your child through the transition:

● Let your child know early on that you will be moving
● Let your child vent worries without judging him or her
● Have a going away party
● Allow your child to make some of the decisions relating to the move
● Help your child to keep in touch with old friends

During the adolescent years, kids are in the process of learning who they are as individuals, preparing to leave the nest, and are forging deeper friendships with their peers. That evolution has a big hiccup when a move is involved. If your child becomes the target of a bully on top of all that,

experts

say it can be emotionally devastating.




Tools in your toolbag

Some experts recommend a conversation about bullying to give your child some basic coping skills. The Los Angeles Times recommends watching this

great video

to open lines of communication with your child about bullying.

It also suggests three simple tips for dealing with bullies:
1. "That's not cool." If the bully is a friend, your child can use these three little words to address the issue.
2. Tell the school. Your child can approach a teacher or other school official with the problem.
3. Don't laugh. Laughter encourages bullies.




Cyberbullying

Cyberbullying occurs when kids use technology to bully their peers. Bullies use avenues such as texting or social media to harass or embarrass victims. It has become so rampant that

some studies show

one in four adolescents is cyberbullied. It can seem overwhelming and complicated when the situation isn't occurring in person. Here is how you can respond if you believe your child is being cyberbullied:

● Be supportive. Make sure your child knows coming to you is the right thing to do, and he or she is not to blame for the situation. Encourage your child not to fan the flames by responding to the bully. Be sure the school is aware of the situation and see if a counselor is available to talk with your child.

● Be protective. Record all of the evidence you can. If you have photos, screenshots, text messages, or voice recordings, save them. Then block the bully on all accounts and devices.

● Be comforting. Kids respond to your stress with more anxiety. Your fearful response tells your child there is something to fear. Instead, maintain a positive attitude and keep lines of communication open.




Less stress at home

Having a safe haven at home can help your child cope with stress. Here are some helpful tips:

● Get a calm start on the day, not rushed or chaotic.

● Be sure your child gets enough sleep.

● Instead of staying chronically busy, be sure you child is getting sufficient downtime.

● Talk with your child and offer advice, but don't be critical.

● Set aside some alone time in a

quiet space

to disconnect from others and make time for yourself




Moving forward

Being the new kid isn't easy, especially if targeted by a bully. Prepare your child with some basic tools, keep lines of communication open, and make sure your home is as stress-free as possible. You can help your child cope, even with a cyberbully.

 


Side note: 

I hope you enjoyed reading this information as much as I did.  Thank you Joyce for sharing ideas on how to stop and cope with bullying.  You can check out her website at 

teacherspark.org




Please #makethetime and #takethetime today to talk to your child about bullying.




No child should ever be bullied or bully.




It all starts at home by teaching your child to be kind and respect one another.




If we, as parents and caregivers, #takeastand together to stop bullying we can #makeadifference




Show your kids you care.




#raiseamazingkids




All of my best, Dyan




 

Click on the link above to hear my friend and fellow mom of 3 kids, Lauren, share her ideas on kids and accountability.

 

How many times, even as adults, do we not take accountability for our actions?  Many times I am faced with situations where I have to stop and make sure I am taking accountability for my actions.  Whether it is a choice we make at work, in our daily life or with your kid.  Take accountability for your actions.  Teaching our kids to do this now will make them be better adults. They will be able to survive better in all areas of life.  The responsibility of taking accountability will effect them personally, in school and then eventually in the business world.  There are many adults I know that do not take accountability for their actions, as I watch in disbelief, I want to ask them "Are you kidding me?"  You can't tell you are the reason for that mistake or reaction to your action"....Now I am not perfect, nor do I pretend to be, but as I grow older, I have realized that taking accountability makes me a better person, mother, wife and will teach my daughter to be a better kid, friend and eventually, adult.  Make the time to take the time and teach your kids to be accountable for their actions, no matter what the result of their action is.  Thanks for stopping by at Moms, kids and friends,  "Where moms get together and share ideas about kids and life".  All of my best, Dyan

0

/