Shopping Cart
Your Cart is Empty
There was an error with PayPal
Click here to try again
Thank you for your business!
You should be receiving an order confirmation from Paypal shortly.
Exit Shopping Cart
Where Moms and Friends get together to share about kids and life

I have always wanted to go to Hershey, PA ever since I was a kid.  My mother and I had plans to go "one day", but unfortunately, we never had the chance.  We talked about it on several occasions as my mother was an avid Hershey fan.  She loved chocolate, all kinds, but Hershey was definitely her favorite.  I have many memories of her buying the extra large bars from Walgreens in the 70s and 80s, sometimes with nuts and sometimes without. 
The trip was absolutely fantastic and Hershey, PA is definitely worth the trip!!
I had no real expectations for the trip, except to have fun and we did.
We stayed at Hershey lodge, which if your budget allows, is a must.  It's everything Hershey, clean, good food and every restaurant gives you kisses, of course, with every check.
Chocolate World is also a place to go.  This is where you can make your own Hershey Chocolate Bar, taste test the many chocolates they make, learn about chocolate, see a 4-D movie, meet the fun Hershey characters and buy your chocolate to take home with you.  Believe it or not, we did get all of our chocolate back to 105 degrees in Arizona without melting, which was a challenge with the East Coast heat, but well worth the efforts, as we are still enjoying our purchases.  They even have their own bakery with homemade goodies.  The best buy would be a toss up between kisses with macadamia nuts or an extra large peanut butter chocolate chip cookie with a large peanut butter cup in the middle...yum, yum...that alone would be well worth the trip back!!
Hershey park was also a hit with the kids.  Ranged 5-8, they all loved it with many rides and a water park area.  We did not go on all of them, but on enough of them that the kids had so much fun and were thrilled to be there.
I recommend at least 3 nights to enjoy the experience.  We spent two nights and 3 days and there was still plenty to do and see. 
As summer winds down, if you still want to make the effort to get away, look into it, I posted a link on my links page. 
I am happy to say, that I finally made the trip, instead of with my mother, with my daughter, who in many ways is just like my mother.  I felt that she somehow was there with me enjoying every minute and every indulgent bite of chocolate. 
My mother taught me to enjoy chocolate and I am glad she did!! 
Make the effort to do something that you have always wanted to do.  All of my
best, Dyan
On our way to see Annie on broadway...how exciting!  When I was a child my
mother did the best she could to bring culture into our lives. We didn't have
much money, so she would save up for tickets to shows that she wanted us to see.  Growing up in the Chicago land area was easy to bring culture into our lives.  Now, living in Arizona, I find it a bit of a challenge to bring culture in to my daughters life.  Yes, there is culture here, and I am not knocking it, but it is different than a large metropolitan city.  Chicago has some of the best zoos, museums, art history and the like.  Obviously, it is no New York, but pretty
darn good!  Even though Arizona is growing and one of the larger cities in America and getting better....it is still very reminiscent of a small town. 
I feel very fortunate to be going to New York to see a play.  My first Broadway play as well!!  My daughter and I are sharing this first experience and I am savoring every moment.  We're taking the train, a first for my daughter, right into Grand Central Station.  Walking through the city, stopping in Time Square, dinner and a show, then home. It will be an experience I will cherish forever and I know she will too.
Even though you may not live in a big city or even near one, it is important to bring culture and diversity into your child's life. This will help them learn, grow, experience and accept.  Take advantage of all the things you can to educate your child and have them grow up as a well rounded individual.  Large city or small town there are opportunities for all.  Local plays or Broadway, large zoos and aquariums or small petting zoos and art
fairs. Take advantage.  Make a difference.
I'm grateful for my mother and her saving her money to take us to plays, zoos, museums and the city to experience different cultures.  I now realize how lucky we were, even if we were in the back row of the theater. All my best, Dyan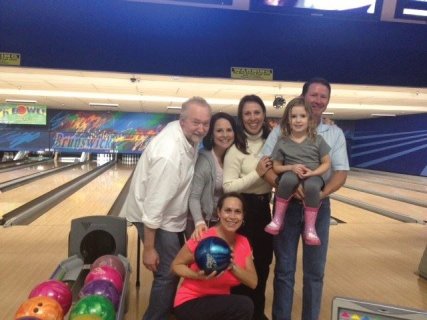 One thing we always did with mom when I was growing up was bowling and what fun it was...bowling with my two sisters, brother and mom.  As I grew up,  it was something I did from time to time and  I was even on a league for a couple of years.  Over the years, I have bowled less and less and only after my brother had kids, did I go bowling again.  Now, that my daughter is five, it is something that we can do to create memories for her.  Hopefully, one day she will look back fondly on these memories, as I do of the ones I had with my mom.  There is one that I remember vivdly.  I was trying to find the perfect bowling ball.  I was about 10.   I was holding the ball and pretending to roll it to make sure it was exactly right.   Then, as I practiced again, I accidentally let go of the ball and it went rolling right down the center main walkway of the bowling alley...   whoops!  It is funny now, but then,  I was a bit embarassed and felt silly.  The memories are still with me and we always spent good old fashioned quality time together.  That was one thing that my mom did teach us, was how to have fun and to spend quality time together. This lesson is still with all of us today.  My oldest sister was in town this past weekend with her husband and we were like, what should we do...it was cold and rainey.  I suggested bowling, and of course, everyone was in.  This was only the second time my daughter has gone bowling and what great fun she had!  My sisters and their husbands also had a good time.  We talked about our days of bowling with mom when were were young, it was extra special for us, because my mom and brother have since passed and this is the first time we have gone bowling together, the 3 of us, since their passing.  Bowling = great times and great memories.  If you haven't done it in a while, take your kids and family out for a couple of hours of inexpensive fun.  The best part is the bumpers stay up for eveyone when you have a young child with you and it might increase your score...that is if you care with all the fun you'll be having!

What we learned:

  how important it is to spend time with family and create new memories, bowling is good old fashioned fun, a bit more about each other, each others memories of bowling with family and after all of these years of bowling... that if only one or two of us break 100, it is ok. 

What we shared:

  new memories, reminiscing about old memories, teaching a new sport to my daughter and lots of laughs.  Strike!.Dyan

0

/