Shopping Cart
Your Cart is Empty
There was an error with PayPal
Click here to try again
Thank you for your business!
You should be receiving an order confirmation from Paypal shortly.
Exit Shopping Cart
Where Moms and Friends get together to share about kids and life

Grateful Pumpkin - #funeasyinexpensivekidcraft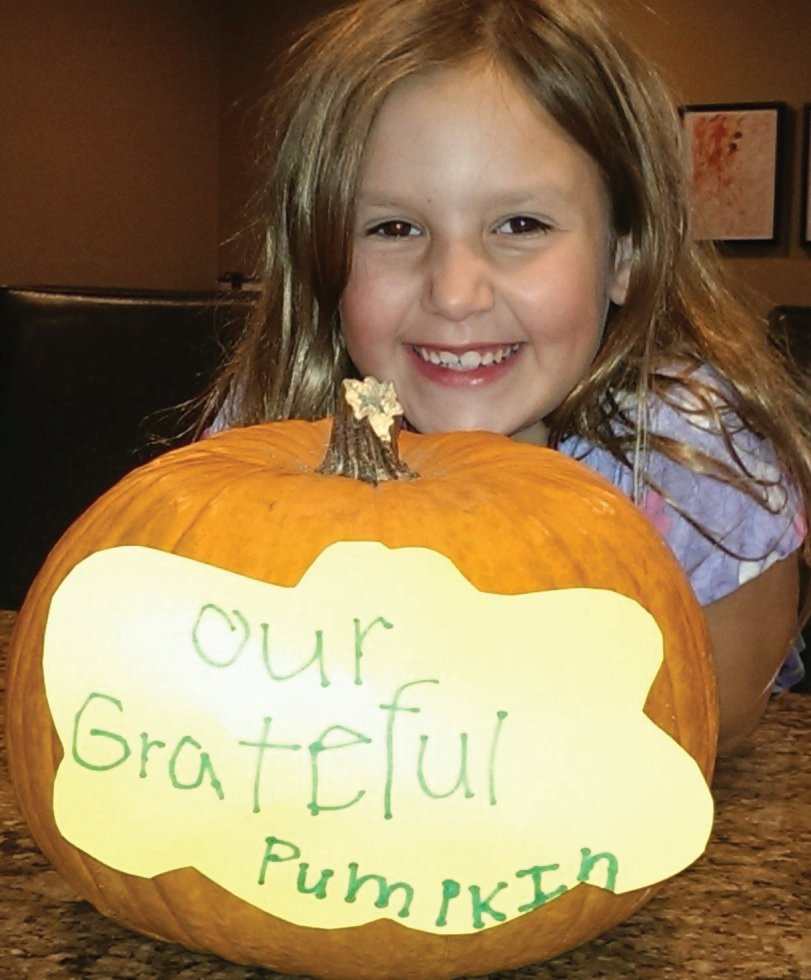 Our October was so busy with fun that we never had the chance to carve our pumpkins this year (or last...lol). I tried to squeeze in last week, but with everything we do in the last week of October it would have been forced and rushed. My daughter was fine with it because she had already decorated two pumpkins for Halloween and as the week quickly went by, I was already starting to think about what else I would do with these pumpkins. The idea of #gratefulpumpkin came to me and I was more excited about these than carving...so that's what we did!
What we used to create our #gratefulpumpkin:
1. A pumpkin (any size but bigger let's you write more things you are #grateful for - which is so important to teach your kids being #grateful)
2. Fall color construction paper
3. Glue stick
4. Sharpies
5. Scissors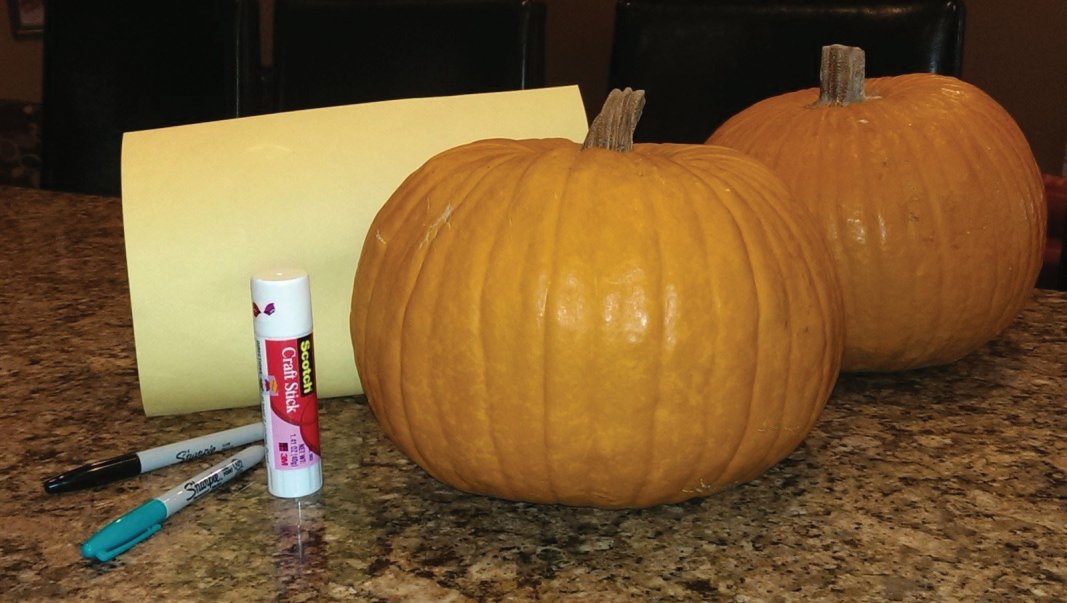 Cut a pretty design out of your construction paper. If your child can write have them write Our #GratefulPumpkin on paper, if not you can write. Glue to front of pumpkin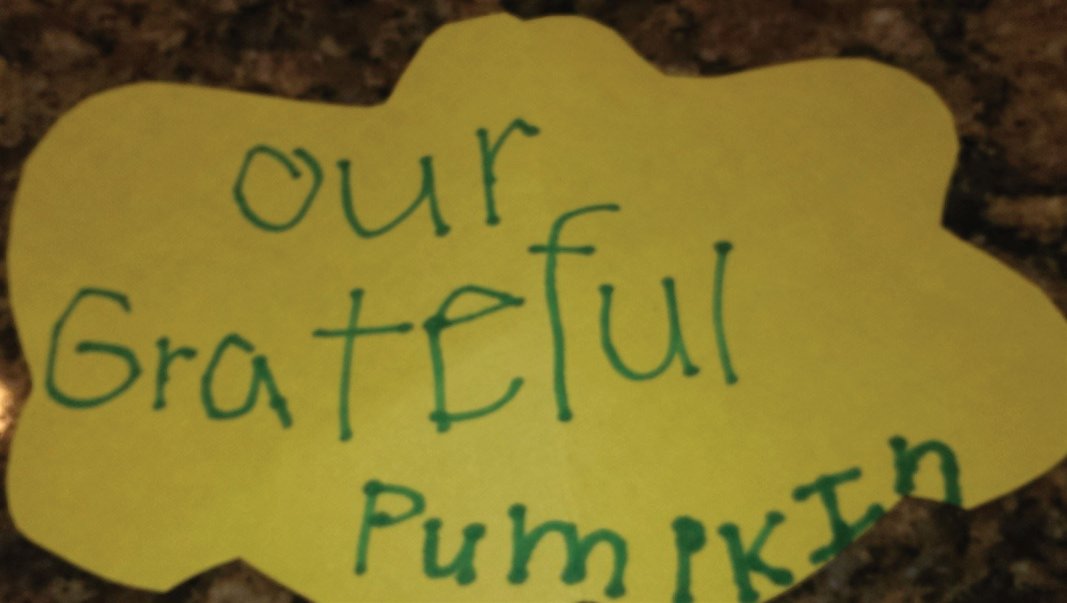 Have each person in your family write something you are #grateful for and add one thing everyday. By the end of the month you will have many things that you and your child are #grateful for and can reflect on each day. That's it!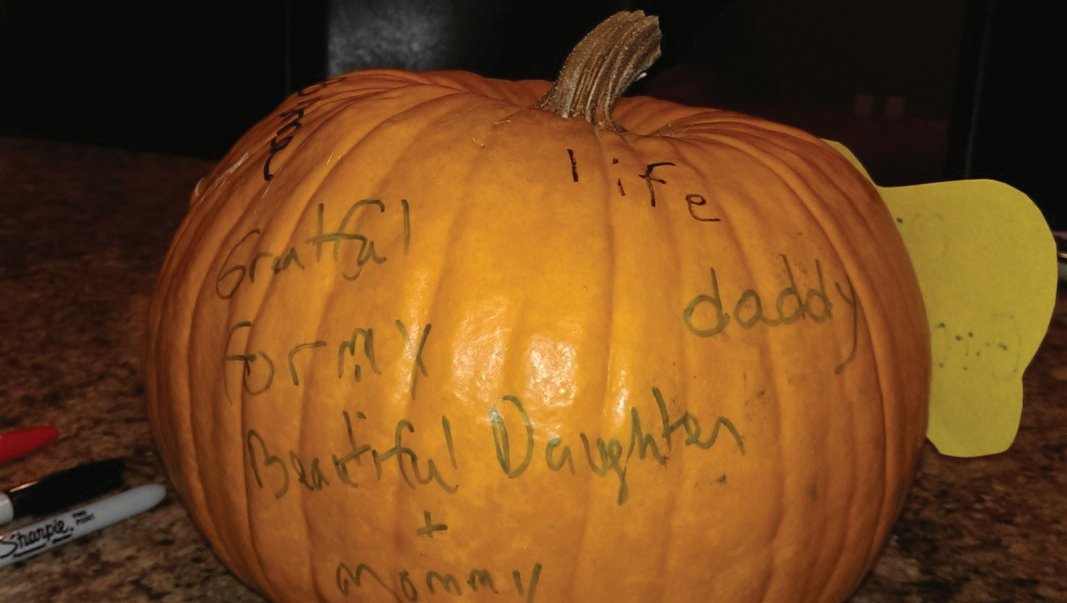 What we learned: How to #reuse items around the house, the use of scissors, practice writing, spelling and being #grateful of course!
What we shared: Creativity, fun, discussing what #gratitude is and why being #grateful for the wonderful people and things in our lives is so important, quality time and memories.
My husband even got in on our #grateful pumpkin which is atypical for him to join in on our moms,kids and friends stuff. #ILoveit....this became a family thing.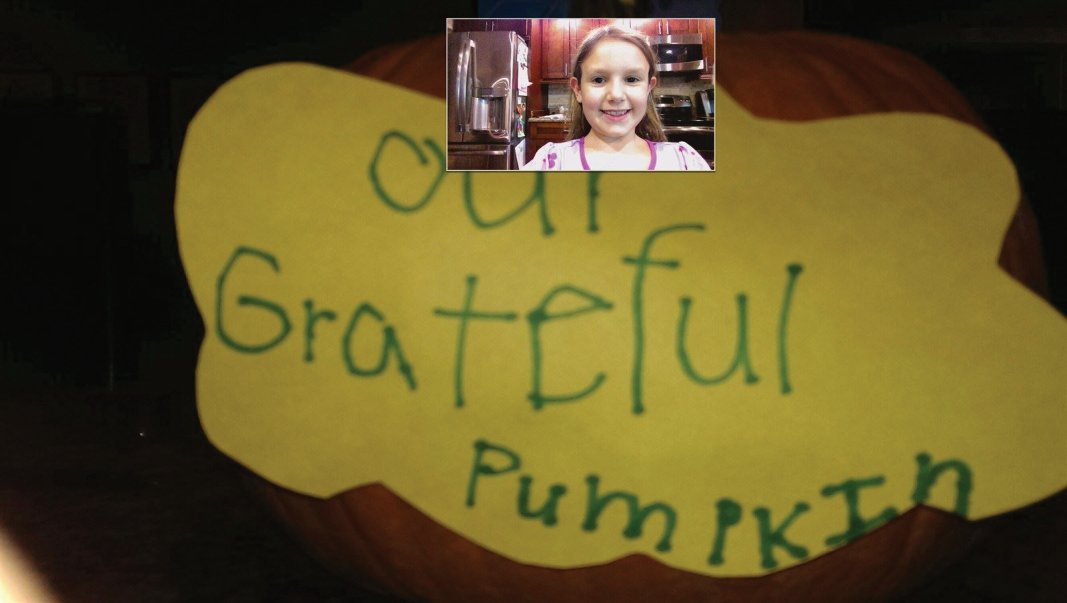 #Makethetime and #takethetime today to share time with your family and talk about #gratitude, what your #amazingkids are #grateful for, what you are #grateful for and the importance of #gratitude!
I am excited to hear my daughters responses each day. We have one rule. If it is already on the pumpkin and another family member has written it, we can not repeat what we are #grateful for, but have to come up with something new.
My daughter is so excited about this simple and fun way to express her #gratitude, she said she wants to come up with two things everyday!
MAKE IT YOUR OWN, MAKE IT FUN, JUST MAKE IT!!
You'll be glad you did! 
All of my best. May you have a wonderful start to this November. Dyan
#momskidsandfriends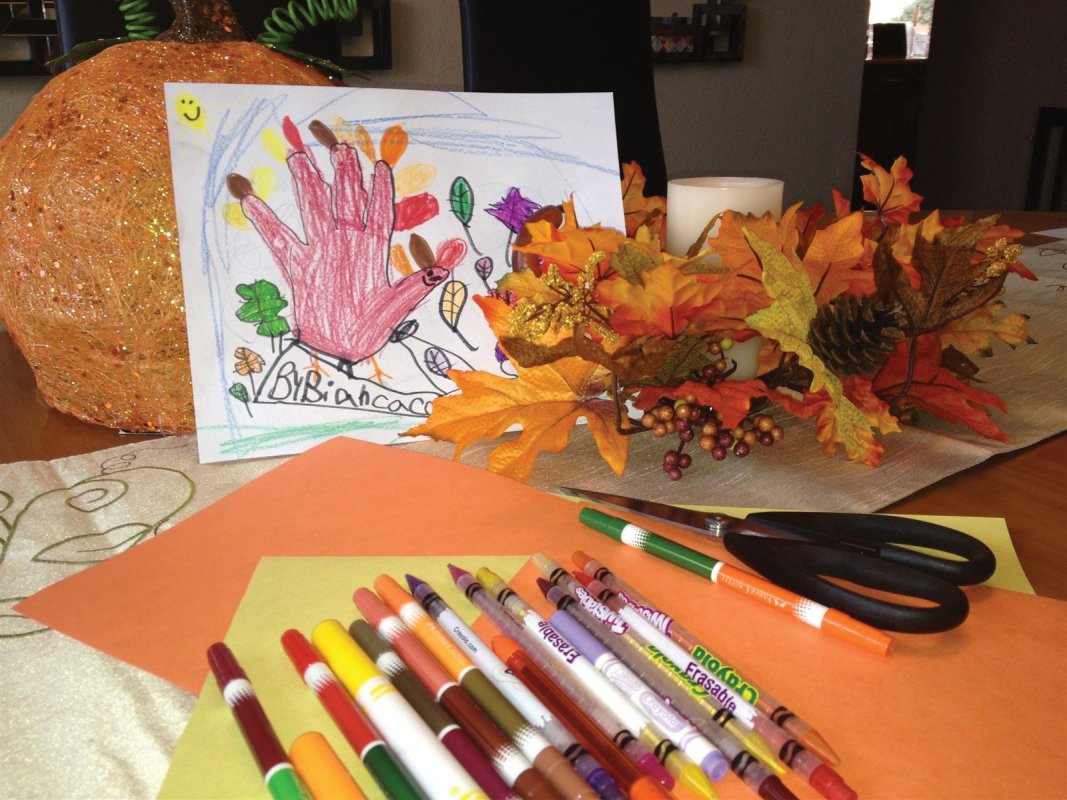 This is a repost from last year...and I still love these so I had to share again.  They were such a hit last year at the dinner table every guest felt special and loved the fact that my daughter created each one especially for them!!  My daughter and I loved these so much that we are using again this year for our guest place mats.  A #Thanksgivingcraft to treasure and keep!!  They are fun, easy and inexpensive to make (my motto)...What better way to show your children's love and #gratitude for their family and friends by creating unique place mats for all of your guests on #Thanksgiving Day!
What you will need to create these special take home treasures:
1. Orange, brown, yellow or white construction paper.
2. Different colored pencils, markers, crayons to create their masterpieces.
3. Scissors if paper needs to be trimmed to fit your laminator.
4. Miscellaneous Thanksgiving stickers (optional).
5. Paper laminator.  Caution:  adult should always supervise this activity as the laminator gets very hot!  If you do not have a laminator, you could use a thicker paper (i.e. poster board or paper cover sheets/pre-laminated sheets purchased at any office supply store.
6. Your child's imagination.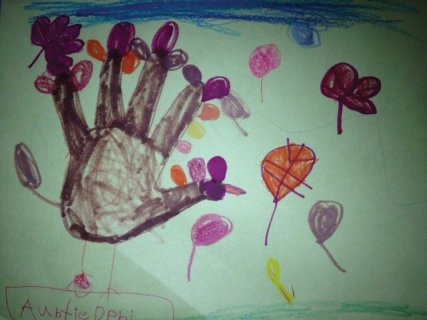 Create each place mat unique for each guest.
Use your child's hand to trace to make the turkey.  Then have them decorate, color or use stickers to make as intricate as they choose. You can label each place mat and then use them as place cards too!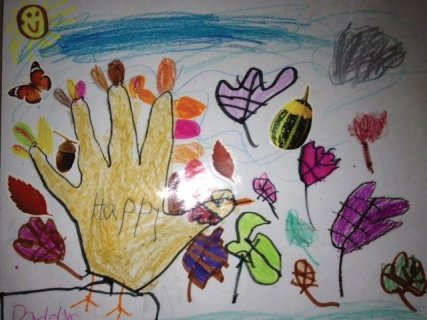 What we learned:
  Lots of stuff!  How to use our hands to make turkeys, how to draw leaves, colors of #Thanksgiving and fall, practiced hand writing names, worked on letters and spelling, practiced writing name, creativity, strengthening hands by cutting, using the laminating machine and practiced safety lessons.
I love crafts that reinforce learning!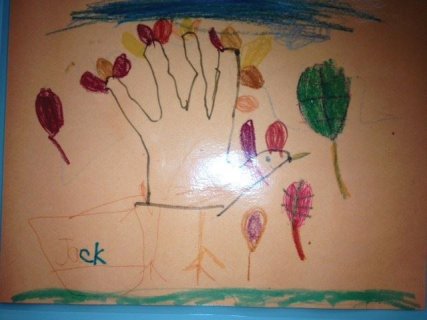 What we shared:
  Lots of fun!  Getting into the holiday spirit, memories, useful craft that we will have many uses (a #Thanksgiving Day card, place mat, place card and take home gift for our guests), creative ideas and a fun afternoon of spending time together.
May your #Thanksgiving holiday be filled with peace, blessings and many things to be #grateful for....may you take the time to enjoy the time with your family, friends and kids.  Grab some paper and create some special memories this #Thanksgiving and make these place cmats.  They are easy, fun and inexpensive to make.  #Thanksgiving blessings to you and yours.   All of my best, Dyan
#AntiBullyingWeek - #Stopthebully
#Beingthankful for being in the right place at the right time.
What I learned:  
Keep your kids close even in perceived safe places, step in if you see a child or anyone in need of help, teach your child to communicate their feelings and wants so they can express themselves in all situations, in a wrong situation...I did the right thing.  Take the time to pay attention to your child - what you do today will make a difference tomorrow.
What we shared:  
Hopefully a better awareness of parent responsibility, if a witness to  #bullying step in and help because both the victim and #bully probably need it and even safe environments can be potentially dangerous.
Be aware.  Teach your children.   
#StoptheBully   - #AntiBullyingWeek
(Please enjoy this repost)
Did you ever have one of those days that your behind?  Well I do and they happen more often then not.  Yesterday was one of those days.  When I get behind I always try and remind myself that it is for a reason and to take a deep breath, relax, keep everything in perspective and I will get to where I am going and all will get done and be fine.  
The unique thing about yesterday was that I kept having a nagging feeling that I was behind for a reason.  I knew I would get to the park with my daughter, eventually, and we would have fun.  But the nagging feeling lingered for the reason why we were 2 hours behind schedule.  
When we got to the park it was busier than usual and then I remembered it was spring break for some schools. It was packed, but we settled in quickly and started enjoying the many activities the park has to offer.  Since I have an only child it sometimes is sad for my daughter, no one to play with but me...she tends to get over it pretty quickly and I am a hands on mom so it is not unusual for me to be climbing on the jungle gyms, swinging or going down the slides.  In all the craziness of the tons of children, I was able to sit back and observe between play areas the many parents that just let there kids run wild.  I thought to myself,  am I too over bearing and controlling of a mom to not let my child out of my sight?  I thought again...NO, especially with the unsafe world around us.  I never let her out of my sight or let her be too far for too long.  But I noticed that many parents don't take the same approach I do and there were kids from toddlers and up that didn't have a parent watching closely.  
As I watched my daughter make sand castles in the sand and observed the miscellaneous children coming up to play for a moment then move on, two kids came by me from around the slide.  A boy of about 6 and a girl of about 5, he had her in a choke hold and was dragging her, pulling her hair, clothes anything he could to get her to move in the direction he wanted her to go.  My first reaction was what is he doing???  Since I am not a quiet, sit back and watch kind of  person, I quickly said, "What are you doing?"  He ignored me and kept on doing it, pulling her hair, shoving her and she was screaming and crying as I told him to stop.  He was in his own world and I frantically looked around for a mother of one of the kids...was this his sister?  A friend?  Were they strangers?  Either way, since I was the only parent watching this obvious display of #bullying in a sea of 50 plus parents, I had to do something, regardless of the relationship.  I knew I could not physically touch the children because of the world we live in, so I walked with them asking the boy to stop and telling him he was hurting the girl, it seemed like 20 minutes had gone by, but in reality it was probably only 3. He lessened his grip, finally, a mother came around the slide and I told her, the little boy is hurting the girl and he needs to stop.  She quickly stepped in as I was so thankful that the parent had finally showed up to take responsibility of her child or (children).  I am still not sure if she was the mother of both, but she did know both children.  I heard her start to discipline the little boy and say something about the fact that when she asks her to get the little girl to leave, that he doesn't have to physically remove her from the play ground, but tell her it is time to go.  I guess, I felt the mother should have been paying closer attention, so this little girls 3 plus minutes of torment would of not happened at all.  Then it finally hit me, the reason for being behind yesterday, so I could be there for her exactly at the right place and right time to stop the #bullying of the little boy, the hair pulling, the tugging, the shoving, choking and pushing.  I was really quite horrified and shaken up and then looked around and realized that no one else had even witnessed this except for me in a crowd of 100 plus people.  Amazing to me, that people, are so much in their own world that they don't notice when their child could be in danger.  
I am #thankful for timing and #thankful for being in the right place at the right time and #thankful for being a parent that stops and takes notice to:  #Stopthebully in their tracks.  
Have a good day and keep your kids close.  You never know what may or may not happen even in a safe environment.  All my best, Dyan
Be aware.  Teach your children.   #StoptheBully
#AntiBullyingWeek
Happy #thankfulthursday! I am #thankful for all the wonderful crafts my daughter and I make together and the quality time we spend together while making them... like this one! So cute, so easy to make, so much fun! Items needed for #TurkeyPumpkin: One Pumpkin, Glue stick or Hot Glue gun (adult supervision required-the glue can get very hot. Glue gun might work better for you to adhere the feather hands, eyes, nose and wattles). More items listed below.

We had most of these items around the house. We reused a pumpkin that we had from Halloween.
Red, orange, yellow and brown construction paper

For fun, easy and inexpensive crafts always have a supply of construction paper in the house of various colors.
Pencil to trace your kids hands and your hands

Scissors to cut out hand shapes to use as feathers.
Brown paint and paint brushes and large googley eyes.

Paint the pumpkin together to make the pumpkin brown to use as the #turkey body of this craft.
After pumpkin is painted and dried. Adhere the cut-out hand shapes on the back as feathers. It was fun to use both my hands and my daughters hands as feathers. The size variety was a nice touch to make the feathers fuller. We also had fun taking turns tracing each others hands both left and right hands.

Glue the eyes on the front. Cut a triangle out of construction paper for the nose, fold in half and glue under the eyes. Cut the wattle from red construction paper and attach under the nose. That's it!
This could very well be the cutest #turkeypumpkin ever!

Love, love, love this craft! So much fun! So easy! And so inexpensive! That's my motto! Hope you have the time to make this one to use as a #thanksgivingcenterpiece for your Thanksgiving table. So much we learned and shared: fun, creativity, I even learned with the red thing under the turkey's nose is called (the wattle). Enjoy your #Thanksgiving with family and friends. Remember to be grateful and live in the moment of the day. Cherish one another and make the time and take the time to enjoy your kids. Happy Thanksgiving! All of my best, Dyan
#November – a time to #bethankful.  As Halloween and October have come to a close, I look forward to the month of #November.  For me, it is a time to #bethankful!  Don't get me wrong, I am #thankful for each and every day, this time of year though, I think, I am more aware or at least I try to be.  I have asked my daughter each day this month what she is #thankful for today.  So far, she has told me - family, her dogs (all 4 of them) and life!  I loved her third one – life!
I am #thankful for my health, so I can live each day to its fullest, for my family…my daughter whom I love dearly and who inspires me every day, for my husband, whom I love, cherish and am #grateful for his flexibility with me and the perfect fall day yesterday!  My daughter and I spent the afternoon at the park.  It was cool with a gentle wind, but sunny to keep us warm.  We played kickball, basketball (she made her first 3 basketball free throws ever...granny shots on a regulation net-pretty exciting for her) rode bikes and scooters, rolled down hills, did life size shadow puppets and blew bubbles and chased after them.  What an awesome day we had, we had not spent a day like that in a long time and it was wonderful just to relax, hang out and play.  Not to mention playing is great for you whether you're 6 or any age!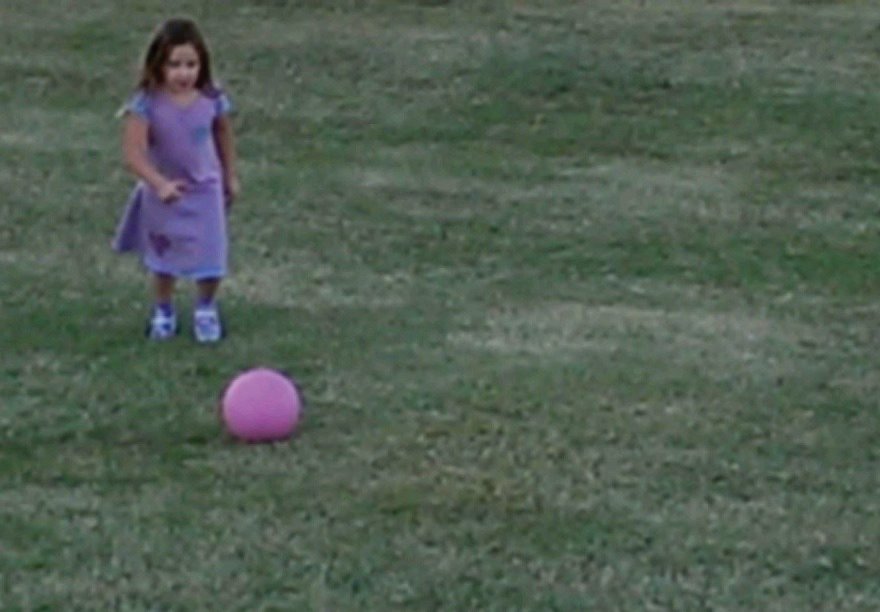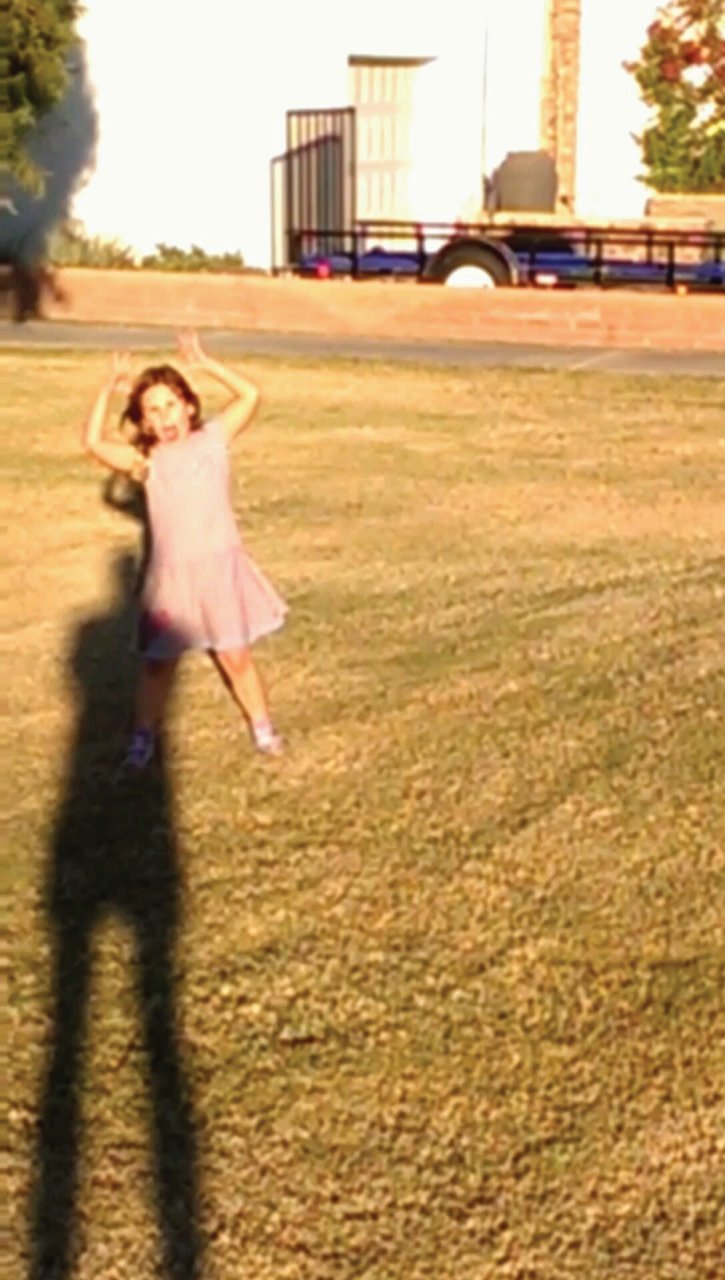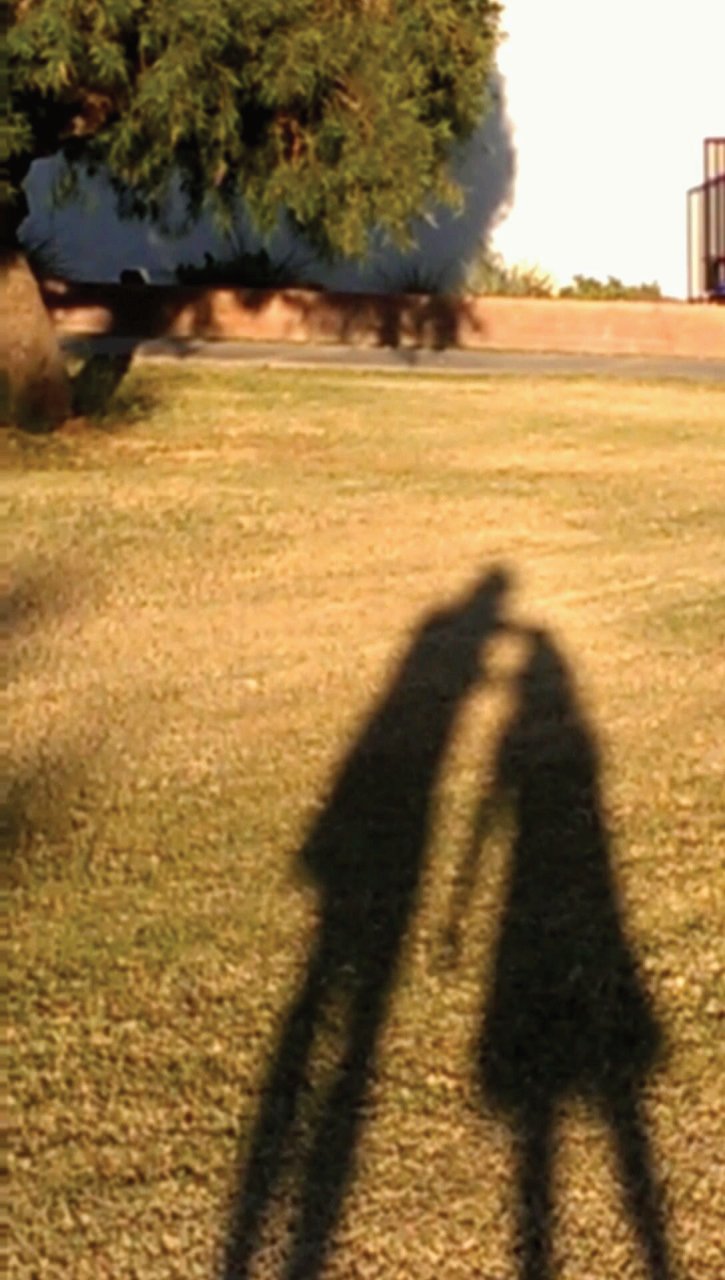 As we proceed into the month of  #November, I will relish each moment of time. Whether it is interacting with my daughter, husband, family, friends or following my dreams.  Take some time today to reflect on your life and everything you are #thankful for in your life.  #bethankful
 Talk with your kids to see what they are #thankful for, teach them the importance of #gratitude.  Remember to make the time and take the time to spend with your kids, loved ones or yourself this #November.  Create new memories, new traditions, follow old traditions and savor each and every one.  I have some wonderful ideas for crafts, recipes and to #bethankful, starting with what to do with those pumpkins that didn't get decorated or carved this year...so check back often.
 All of my best Dyan
Be grateful for #handsondads
What would we do without hands on dads?  Today, I am grateful for those dads who take an active part in their kid's lives.  Who show up for their kids events or school activities…Who participate in their kids' lives…Who love their kids unconditionally…Who spend time with their kids (even if they don't have the time to do so)…Who play with their kids (sports, games, whatever it is, they play)…Who hang out with their kids…Who help out with their kids around the house with homework or whatever…Who are present with their kids…
The traditional role of fatherhood is not what it used to be and many dads are taking an active role in raising their kids.  To each and every one of you, I am grateful.  I am grateful because it builds confidence in our children, it builds character, it builds a bond between father and son or father and daughter that only fathers can build….moms can't do everything!  I am grateful because hands on dads help raise stronger, loving children and I believe will help their children have less "issues" in the future.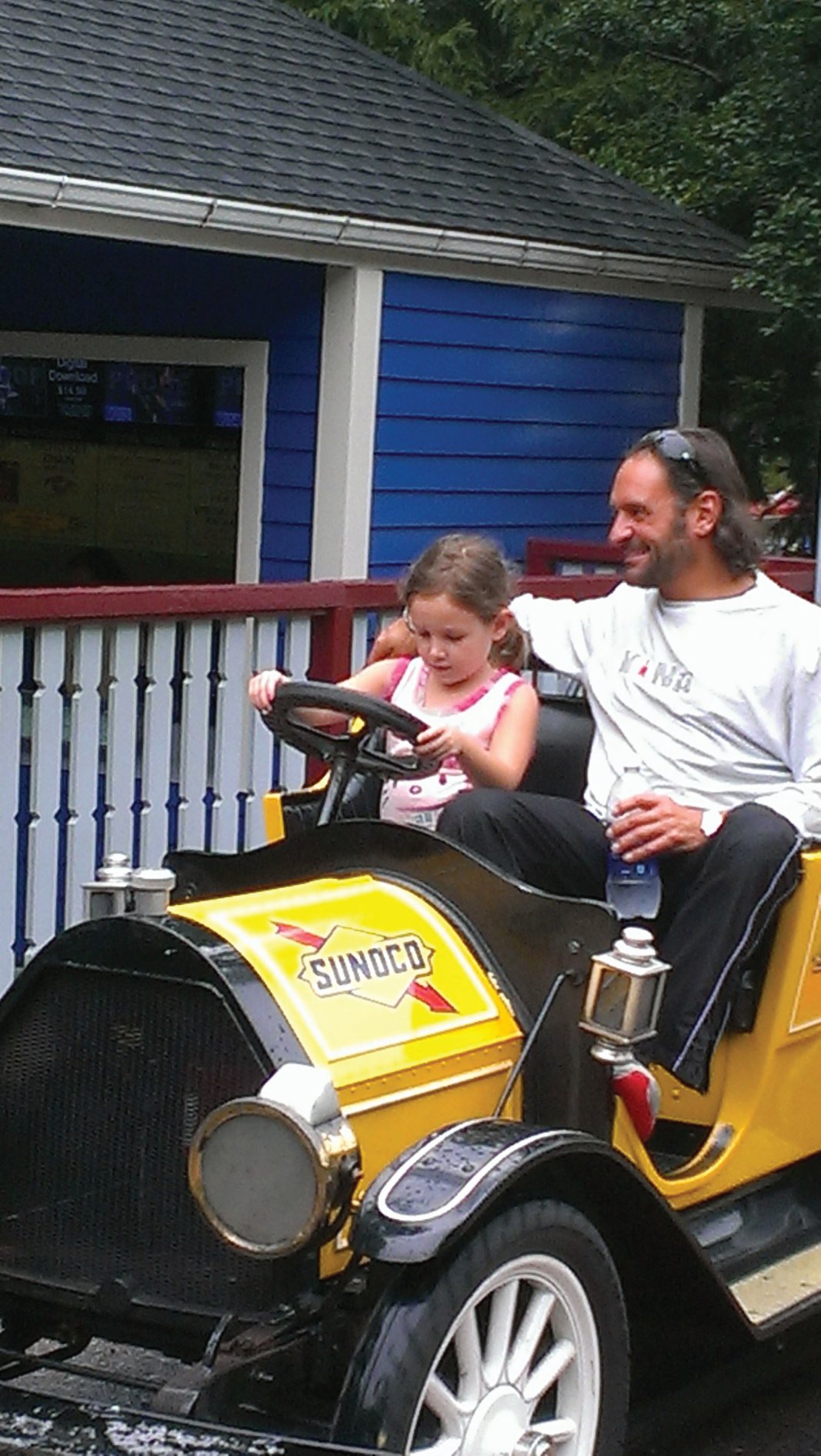 Unfortunately, I don't meet a lot of hands on dads…but every time I do, I am enthralled and encouraged with their active part in raising their kids.  If each dad does one thing today that they normally don't do for their kids, wife or partner, I think it would strengthen the family bond…one dad step at a time. Doesn't matter what you do...just do it!  Do it from the heart and with love. Make the time and take the time today to be a #handsondad, you and your family will be glad you did!  All of my best, Dyan 
If you have something that your #handsondad does, please share with a comment or if you are a #handsondad, I would love to hear how you spend time with your kids spending quality time together.  Thanks, Dyan
Ok. So, we are now in our second month of school…starting to get in a groove and settled in with the new school, routine, meeting new friends and basically getting acclimated to first grade and our new school.  Everything is going smooth, exactly how I like it, (I can be a bit of a control freak). 
Unfortunately, this week my daughter had a major melt down. I was surprised as she had been telling me every day that she loves school, her new friends, her teachers, etc.
It started with a bad dream.  She woke me up about 1 hour before I had to get up to get her ready for school.  She crawled in bed with my husband and I and we talked briefly about it and back to sleep she went.  All was fine, at least I thought it was.  She then woke up on her own to start getting ready for school and she was sad and started crying and telling me more about her dream.  She didn't go into too much detail, but I realized that the dream had to do with me picking her up after school and I wasn't there…she was left all alone waiting for me.  She was sad and scared all at the same time.  We discussed dreams and how it was just a dream and I would be there to pick her up as I had been every day since school had started.   She seemed to be a bit better and time was clicking to get to school so, off to school we went.  Her tears had dried up and she seemed fine, until we walked into school and the tears came, boy did the come.  I hadn't seen her cry this hard ever at school.  I reassured her as best as possible. I talked briefly with the teacher about the situation.  Her teacher consoled her and she tried to be brave and wiped off the remaining tears and walked into her classroom. I felt sad and quite frankly wanted to just take her out of school for the day.  But we all know that is something we cannot do, otherwise it could become a habit that might be hard to break. 
I started to walk back to my car and ran into a friend of mine who also has a daughter at the school.  I told her what happened.  We walked back to our cars and said goodbye.  An hour later my friend called me and suggested I come in to volunteer for lunch duty, (even though it wasn't my day to volunteer).  She went on to tell me that it would be a wonderful way for my daughter to know that I am there to support her, be there for her and what a wonderful surprise it would be for her.  I had a million things to do that day and did not really have the time to volunteer, but thought about what she was telling me and realized that it really did make sense, a lot of sense and she was absolutely right!   I made the calls and verified it was ok for me to come in and help out at lunch. 
I arrived on time and waited for her class to come to the lunch room.  As her class filed into the lunch room, she turned and saw me.  Her face lit up, it really lit up!!  For that one moment in time, I could see all the sadness and uncertainty turn into happiness, peace and light.  I was soooooo happy that I had shared my morning with my friend and was soooooo happy that I listened to her advice!  This is one of the reasons why I started this blog, for moms and friends to share with each other ideas that work, REALLY work for their families and kids to make a stronger family bond, community bond and relationships that are filled with love, happiness and commitment. 
Moms and friends getting together and sharing ideas about kids and life!
Even though a simple idea, I am not sure I would have thought of doing it on my own.  I am truly grateful for my friend, because it made such a difference in my child's day that I wouldn't have traded anything else in the world to have seen her day brightened right before my very eyes. 
Many wonderful benefits to this one.  I also helped out the school in volunteering.  Today, make a difference in your kids life.  Be aware of their needs, be there to support them in every way you can and hug them/love them as much as possible.  All of my best, Dyan
What I learned:  That it is possible to turn your kids melt downs into a positive experiences, sharing your challenging times with  friends can always give you a new perspective to help strengthen your relationships within your family and how much I value my friends and relationships because they help me be a better mom.
What my child learned:  That she is not alone at school, I am there for her and care about her feelings, I will be there to support her and how much mommy does love her.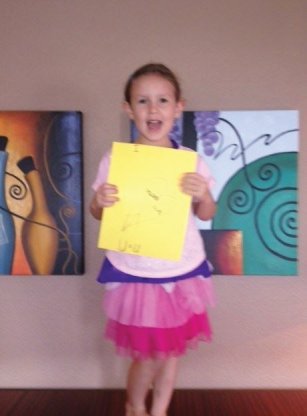 Let's move on to more positive things shall we...like being present with your kids.  With the first month of school behind us, I am finding that I am finally getting into a routine.  As I look back at this first month, I have been overwhelmed with many responsibilities that I had to take care of and I am actually grateful for the time my daughter has been in school because it has been easier on both of us to juggle my time of getting things done and spending time with her.  While I miss the free days of summer...doing what ever we want whenever we want...I am realizing that the time I do have with her (outside of her activities and school) have become more precious than ever. 

Yesterday we had a good old fashioned play day with lots of activities and fun!  It was the best day I have spent with her in a while and I know the best day she has spent with me!  We started the day with making home made blueberry vegan pancakes, even though loaded with lots of good things like flax, fiber and antioxidants they were delicious, she even agreed!  You learn so many great things when you cook with your child.  How to measure, mix, fold in ingredients, pouring...the teaching opportunity is endless. 

We watched baby videos...one of her and my very special things to do.  It was a rainy morning which we don't get very often, so we took advantage by watching a few old videos laughing and enjoying her earlier years...of course I do get melancholy and reminiscent of the days gone by...but I am grateful for everyone of those videos and times I spent with my daughter. 

We went outside and splashed in the puddles and stood in the rain and then looked for rainbows when the sun came out.  Unfortunately, we didn't see one, but the point is we did get a chance to look for one. 

Went swimming, played keep it up, dived for rings and had seahorse races around the pool on our noodles. 

Inside to make a video card to send to her parents for grandparents day, a craft out of my favorite kids magazine,  High Five - (traveling tic tac toe -please see link), mango smoothies, hide-n-seek, finished up the day with a wonderful dinner, game of memory and reading 4 books to complete her reading log for the week.  Sound tiring??  I guess it kind of does, but it wasn't, not at all. 

It was a day that we both needed to reconnect and take advantage of nothing but our time together and a day of good old fashioned fun!  I loved it and so did she!

I was thinking about my day, as I always do before I go to bed, I was grateful for every second we spent together, every moment.  When I went back into her room last night to put her books away (after recording them in her book log for school), she said "Mommy, I love you," in her sweet little voice.  My heart melted as it always does when she says nice things.  I am sure she had been reflecting on the day herself as she was falling asleep and thinking of all the fun she had too! 

Take advantage of your time with your kids, they are getting older every day and it seems like our lives are in super sonic speed these days.  Make each moment of your time with your kid count, do something fun, learn something new, do things that they want to do.  Take the time and make the time to be present with your kid.  The smallest of efforts will grow your family bond and make everyone happy.  Make your next time together a day of good old fashioned family fun, turn off the computer, don't answer any phone calls and make it all about the family. All of my best Dyan

 

What I learned:  all of us need a day of good old fashioned fun, every moment I have free and my child has free should be used to create family bonds and wonderful memories, how good my daughter is at memory game, how nice it is to take a stress free relaxing day with family - an opportunity that should never be passed up!

What we shared:  fun, fun, fun, cooking-learning new cooking techniques like folding in ingredients, how to read fractions on our measuring cup, good healthy food, fresh air, love and strengthened our bond. 

I did this summer vacation.  We kind of had a down day on our summer vacation.  We were going to go to the pool, but wouldn't you know it, it started raining out.  What are we going to do now???  Well, the one thing I noticed when we arrived at our hotel, was the clover flowers in the yard, it brought back so many memories of my childhood.  My sisters and I would sit for hours making clover necklaces and bracelets.  I thought to myself,  I want to share this memory with my daughter if we have the chance.  She woke up and saw the rain and was a bit disappointed.  Swimming was out of the mix,  so we went outside on the front wrap around porch of the fabulous bed and breakfast we stayed at and started picking the clovers.  It was only drizzling so it was fun to pick the flowers from the grassy area in front of the B & B.  We picked quite a few and she asked, "What are we going to do with these now?".  I showed her how we make the necklace, weaving each stem with in one another.  We each made our own and then she had the idea of making ankle bracelets too.  Now, we never made these as kids, at least I don't think we did.   I don't remember ankle bracelets being big back then.  It was great because she added something new to the mix.  Later that day, my mother-in-law asked what we did that morning, I shared this with her and she shared that she used to make them too!  My daughter thought that was so neat and somehow she appreciated making the necklaces that much more.  Of course, I sent the pictures to my sisters who texted back quickly that they remembered this fun and creative thing we used to as kids that would entertain us for hours.  Time certainly has changed since the 70s, kids expect much more and many times they want an electronic device to entertain them.  I challenge myself everyday to not let my daughter get caught up in too much TV, computers, video games, iphone games and the like.  I would rather sit and make these clover necklaces with my daughter on a gloomy raining day, then sit inside and let her get lost in the world of electronics.  I challenge you to do the same.  

This trip brought back special memories of the simplicity of my childhood.  We caught lighting bugs, made clover necklaces and spun twirly whirlys that fell from the trees.  These are all things that we can not do in Arizona.  I am grateful for the opportunity to share these wonderfully simple things with my daughter and she thought they were pretty darn neat too!

 

I think it is so important to share memories of your childhood with your kid.  These simple ideas bring you closer and let's your kids know you were once a kid too.  Make the time to take the time with your kids, you all will be better off and have fun doing it!  Now go out and get creative with nature!  All of my best, Dyan

 

 

Write your post here.

I have always wanted to go to Hershey, PA ever since I was a kid.  My mother and I had plans to go "one day", but unfortunately, we never had the chance.  We talked about it on several occasions as my mother was an avid Hershey fan.  She loved chocolate, all kinds, but Hershey was definitely her favorite.  I have many memories of her buying the extra large bars from Walgreens in the 70s and 80s, sometimes with nuts and sometimes without. 

 

The trip was absolutely fantastic and Hershey, PA is definitely worth the trip!!

I had no real expectations for the trip, except to have fun and we did.

 

We stayed at Hershey lodge, which if your budget allows, is a must.  It's everything Hershey, clean, good food and every restaurant gives you kisses, of course, with every check.

 

Chocolate World is also a place to go.  This is where you can make your own Hershey Chocolate Bar, taste test the many chocolates they make, learn about chocolate, see a 4-D movie, meet the fun Hershey characters and buy your chocolate to take home with you.  Believe it or not, we did get all of our chocolate back to 105 degrees in Arizona without melting, which was a challenge with the East Coast heat, but well worth the efforts, as we are still enjoying our purchases.  They even have their own bakery with homemade goodies.  The best buy would be a toss up between kisses with macadamia nuts or an extra large peanut butter chocolate chip cookie with a large peanut butter cup in the middle...yum, yum...that alone would be well worth the trip back!!

 

Hershey park was also a hit with the kids.  Ranged 5-8, they all loved it with many rides and a water park area.  We did not go on all of them, but on enough of them that the kids had so much fun and were thrilled to be there.

 

I recommend at least 3 nights to enjoy the experience.  We spent two nights and 3 days and there was still plenty to do and see. 

 

As summer winds down, if you still want to make the effort to get away, look into it, I posted a link on my links page. 

 

I am happy to say, that I finally made the trip, instead of with my mother, with my daughter, who in many ways is just like my mother.  I felt that she somehow was there with me enjoying every minute and every indulgent bite of chocolate. 

 

My mother taught me to enjoy chocolate and I am glad she did!! 

 

Make the effort to do something that you have always wanted to do.  All of my

best, Dyan

0

/