Shopping Cart
Your Cart is Empty
There was an error with PayPal
Click here to try again
Thank you for your business!
You should be receiving an order confirmation from Paypal shortly.
Exit Shopping Cart
Where Moms and Friends get together to share about kids and life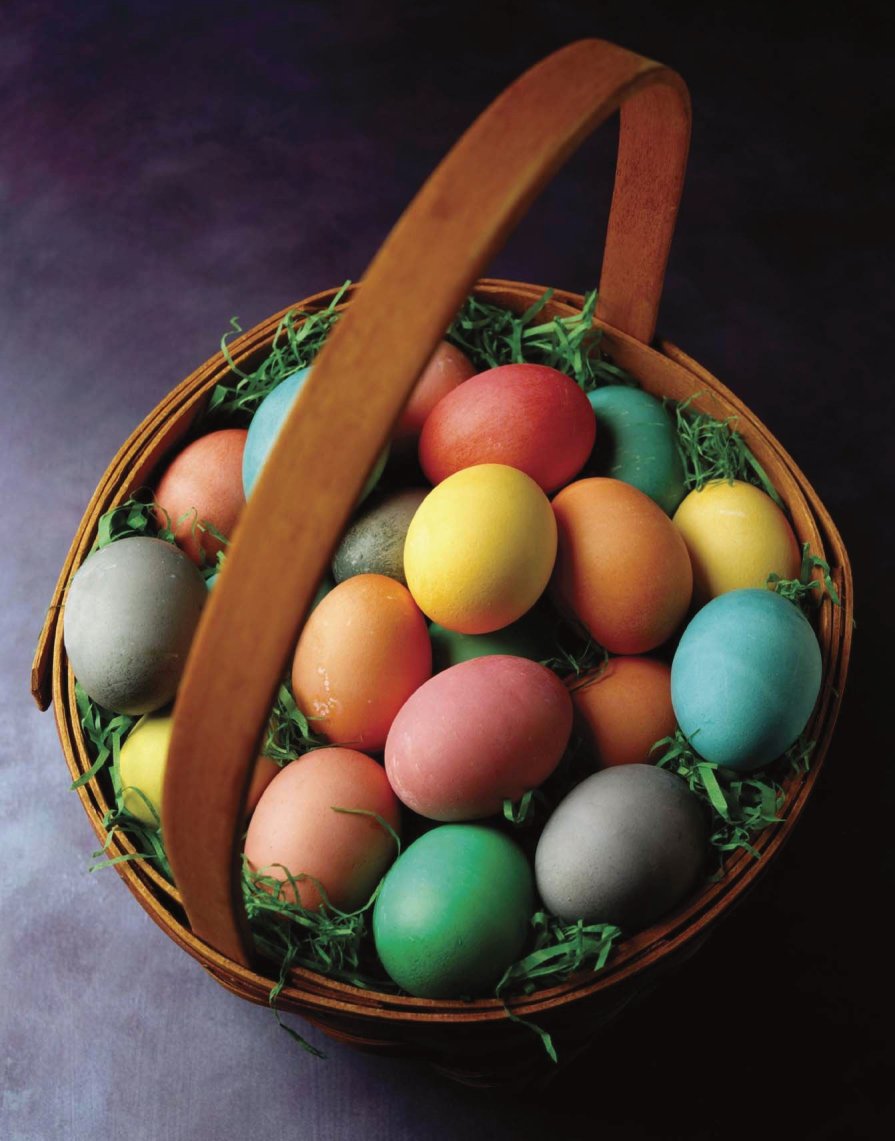 Don't know what to do with those uneaten hard boiled #Eastereggs still in your fridge?  Instead of throwing them away, have another #Easteregg hunt, just for fun!  Then throw them away.  We typically do our traditional #Easteregg hunt with plastic eggs.   No one really ever eats the hard boiled eggs, so we always do an "after" #Easteregg hunt with the colored ones.  I feel at least we do get another use from all the time spent decorating the eggs, instead of just throwing the pretty eggs away.  My daughter loves it and I don't feel as wasteful.  
Will this be the last #Easteregg hunt of the year for us?  Doubtful, we do them all the time.  My daughter loves to hide them by herself and then have a pretend egg hunt.  I  hide them for her too.  It is a great way for her to entertain herself, which being a only kid sometimes gets tough for her to do.  She fills them up with different items from around the house, coins, fuzzy wuzzies, any trinkets she can find and hides them.  It is a great way to have fun through out the year and to stimulate pretend play.  So, will this be our last #EasterEgg hunt of the year?  Absolutely not!! Have fun hiding those eggs whether real or pretend and may your children have fun finding them. All my best, Dyan
What we learn:  Other uses for our once a year toys or games therefore instilling reuse, creativity, sizing objects...what will fit in what size egg, practice opening and closing the eggs learning patience...sometimes the plastic eggs are not so easy to close.
What we share:  Inexpensive fun game time, a shared activity and plain #oldfashioned fun!
#Music and #kids go together so well!
#childrensmusic
Let music #inspire you to do something fun with your kid today!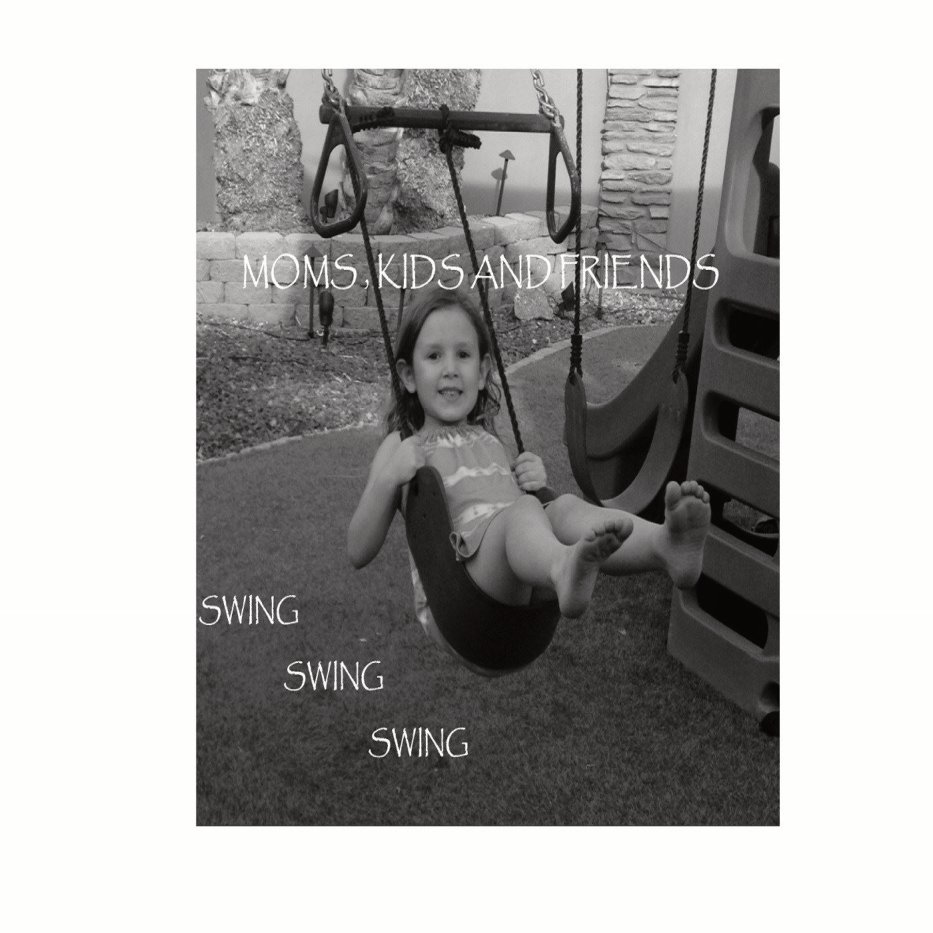 SWING, SWING, SWING  IS NOW AVAILABLE FOR PURCHASE                                                     
                                           ON iTUNES
(enter swing, swing, swing moms, kids and friends in search field)
OR CLICK ON EITHER LINK BELOW:
 I've always loved #music for the joy it brings into my life.   #Music can bring you back to special times in your life, it book marks special events in your life, it can #inspire, it can make you happy, it can make you sad, it can make you think, move, sing, motivate, bring people together...the list goes on and on!  #beinspired
What I like most about #music is the joy it brings my daughter and I when we are playing, dancing, singing, doing chores or learning new things. There's nothing better then listening to music to make everything just right!   
My daughter has #inspired me to incorporate more music into our lives.  I love it and more importantly, she loves it too!  It has helped me teach her important things about her life and environment.   
I realized when she was just a baby how #music made everything better, taking baths, playing and learning.  She responded so well to simple everyday tasks when I would put them to song.  As she grew, she started helping sing the many songs that we still sing today.  I love #music and have instilled in her this same love of #music.  I am thrilled that she loves #music!  She is learning how to play the piano and sings just about everywhere she goes.  #Music to us is fun, #inspiring, positive, motivational, reflective, nurturing and makes everything better. 
I have released my first single and it it now available on iTunes, cdbaby.com and amazon music.  
You can check it out on my face book page too:  
under music player.  
Swing Swing Swing (the opening #music on moms kids and friends)is a song about playing at the play ground with friends while enjoying all the beauty around you.  Take a listen, I think you will love it!  I do have to warn you though, it's very fun, catchy and will definitely want to make you get up and dance or swing at the park  and you will probably be singing it for the rest of the day.  
Download it, listen, dance and sing with your #kid....#beinspired and get ready to get your happy on....you'll be glad you did.  All of my best to you, Dyan
#Music and #kids...go together so well! 
#childrensmusic
SWING, SWING, SWING  IS NOW AVAILABLE FOR PURCHASE                                                     
                                           ON iTUNES
(enter swing, swing, swing moms, kids and friends in search field)
OR CLICK ON EITHER LINK BELOW:
 Today was a cold January day, I woke up with a horrible migraine, the first bad one in about a year.  If my daughter didn't have a doctors appointment, I am not sure I would of made it out of bed today.  (That would of been a first in over 5 years).  As you all know, if you have kids, the world doesn't stop for you to get better and rest (thank you migraine medicine)!! 
After running to the doctor and going to pick up a script at the pharmacy, I thought, I can't wait to get home and warm up and not go outside the rest of the day.  
When I got home, I forgot something in the car and I ran out to get it.  The sun felt so warm on my face and body, even though it was a chilly day.  I went back in the house and I told my daughter, "We just have to go out for a walk, bundle up and lets go."  She fought me for a moment and said something about her favorite TV show and I said "TV is not more important then fresh air and exercise."  She seemed to agree and got dressed to go.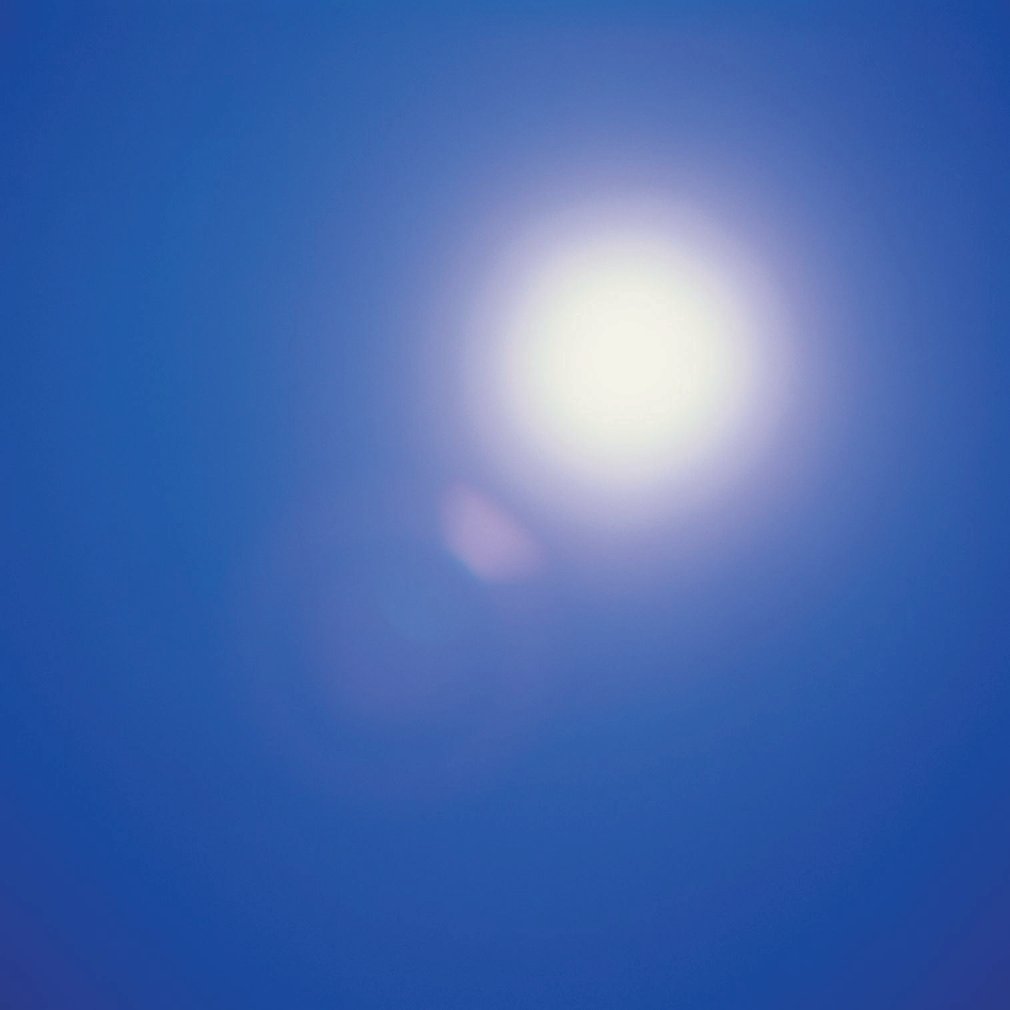 I said it would be a quick 20 minutes and we will be back.  One hour later we came back from our walk, refreshed, our souls warmed from the bright sun!  We enjoyed our walk and each other.  I smiled and watched her and was happy to see her running around the park as I admired her young spirit and sense of adventure.  We stopped and commented on the ducks and how they were probably cold.  We stopped and listened to all the sounds around us, the birds talking, the distant airplane in the sky, the kids playing at the local school playground and dogs barking.  We found a new rock to paint for our rock collection and we even met a nice lady with a five year old grand daughter in NY.  We laughed, held hands and I took in the most precious time of my day.  
Thank you sun for inspiring me to go out and enjoy the day, you created a nice memory for me and my daughter.  
What I learned: when something inspires you - act on it, even a bad day can turn out good, make the most of everyday.  
What we shared:  quality time together, learning about nature, sounds and birds, fresh air is good for you even if it is cold out (as long as your dressed for it).  Have an inspiring tomorrow!  All of my best, Dyan
My family  and I have finally recovered  from a 10 day long, knock out, icky virus!  As, I am slowly getting back in the swing of things...please enjoy this repost, one of my favorites, in case you missed it.  The best things in life are free...if you actually take the time to enjoy them, #timewithyourkids that is... and I hope you do!  All of my best, Dyan
What a crazy day...last minute 1099 stuff, phone calls to set-up service man for our move back into our home (after our daughter's illness), health insurance needed to be renewed and waiting for a phone call from the car dealer on when my car would be ready for pick-up. Finally, I could break away for a minute and promised my daughter sometime outside. "The park or just playing in the grassy area of the park?", I ask. "Playing in the grassy area," she shouts as we get ready to go outside. We grabbed a ball, frisbee and put on our gym shoes and headed to the park. 
On our way to the park she states she wants to play TAG YOUR IT, one of her favorite games. We get to the park, throw the frisbee around for a bit, (she is still learning to catch it), so we basically just throw it and race to see who gets it first. The same with the ball and then TAG YOUR IT. As we run around the park, she screams happy screams, laughs and runs like crazy back to what she calls base - to have a break, her safe haven where no one can be tagged or be the tagger.  It is always fun to pretend like your exhausted and can't go on and then sneak a tag in and run the other direction. As we run around like crazy playing tag, I realize, my daughters coordination has improved and that she is faster than ever. I am still pretty quick even for a 47 year old mom.  I told my husband tonight at dinner that she is getting quicker or I am getting older, maybe it is both. I am happy to say though, that I enjoyed every minute of tagging and getting tagged and got a great workout in the meantime. 
The best part of my day was TAG YOUR IT and hearing my daughters laughter and excitement. THE BEST THINGS IN LIFE ARE FREE...running around the park hearing her say those words "TAG YOUR IT" was priceless. 
What we learned: Plain old fashioned running around is not only great exercise, but the most fun you can have for free with your child, that moms and kids can have quality time without phones or other electronic gadgets, getting out of the house even for just 35 minutes is a great way to refresh your minds, spirits and souls. 
What she learned: Mom can still run fast and play, spending quality time with her is very important and that young is all a frame of mind.



TAG YOUR IT.....all my best, Dyan
I have two important couples in my life that are celebrating their long loving marriages.  One is my dear friend of 30 plus years as she and her husband will celebrate 22 years of marriage this year.  The unique thing I think about them is that they are only in their 40s.  The other is my beloved in-laws, they will celebrate their lasting love for each other of 50 years!!  The secret to both marriages I think...is taking the time to make the time for mommy daddy time.    I guess at this point in their lives, neither are addressed by mommy or daddy anymore, but that is not the important point here.  The important point is that both marriages have stayed together for many many years.  When I ask them both and reflect on their love it is because they made each other a priority.  Another thing they both have in common is that they traveled together.  You might not be a traveler or have the money to do it, but if the opportunity arises or you are lucky enough to be able to travel, do it!   
We all hear it, your children are born, make the time for each other, we all shake our heads and say we will, we will have date night, we will travel together, we will put the kids to bed early and just spend quality time together... just the two of us...but, how many of us actually do it??  I know I say it, I think it, I truly think I am going to do it. We plan the nights, get a sitter lined up, but we don't do it and when we do...it is not often enough!  We in the end are only hurting ourselves, our chance of a long lasting marriage and the increased happiness of our family. 
Whether your newly married with kids or been together with older kids.  Take the time to make mommy daddy time.  Only you can do it, make the effort, make the commitment and allow your selves the time you deserve together. 
If you don't have the money for a sitter, let alone travel, put your kids to bed early and have a special date night at home.  Have a separate dinner together, cuddle and watch a love story on tv, sit outside and enjoy the stars.  There are still many options to spend time together with or without money.  Find what works for you and take the time to make mommy daddy time.  All of my best to you, Dyan
What I learned:  That I don't take enough time to make mommy daddy time.  I have made a commitment to myself, my marriage and my family to do this and will in turn have a longer happier marriage.
What I share:  New experiences with my husband, learning new things about him and building a foundation of love to last a lifetime.
I would love to hear from you.  Tell me how you work to make your marriage last.  Or what new things you have incorporated into your daily lives together to take the time for mommy daddy time.
How many of us feel guilty for the things we do or don't do with or for our kids?  I know that every mom that I have ever talked to about raising kids, at some point in their lives or relationships with their kids, have a feeling of guilt.  I should do this more often or that.  I know that my own mother (and father) had and have lots of guilt for the things never said or done.  As I think back to my childhood and the way I was raised, my parents had the guilt, but never did anything about it.  Now sitting in the drivers seat of a parents life, I feel that this is a very easy fix.  Instead of talking or worrying about what you do and don't do, just do it!  Every mothers guilt is different, not enough time spent with them, when the time is spent not being connected, no helping them learn the lessons of life, not supporting them in what they are doing, not showing up for dance recitals or baseball games.  To me it seems simple, again, just do it!  Say the things you want to say, life is too short not too.  Do the things you want to do with and for your child.  Life is too short not too!  Be the parent that you always wished your mother or father to be to you.  Just do it! Life is too short not too! Tell them how much you love them, how beautiful of a person they are, hold them, hug them, tell them they can and do anything they want and mean it!  Explain to them how important it is to be a good person and lead by example.  Turn off the cell phones, the emails, the texts, IMs, etc and spend the time to be a better parent. If you find that all of this is too overwhelming, break it up and start small, baby steps do work.
I have a friend of a friend that says they can not connect with their kids.  They can't turn off that constant mental check list in their head of what needs to get done at work and at home.  I get it, being a parent, single or not single is a tough thing.  My advice to her you ask?  Make a list of things to do with your kids.  This is one of my favorite things to do with my daughter.  This way I am making the efforts to do the things I want to do with her and she wants to do with me.  Now, everyday is not perfect of course and other unforeseens come into the equation of life. So, if something doesn't get done that day or week we make the list, we add it to the next day or week.  Sometimes we even multi-task,  good or bad we do it.  We play a game while having dinner, we do a puzzle, we do an activity book while having lunch.  Let's face it, in todays day and age, when everything is moving so quick, we have to slow down. If we can't do it all the way, at least we are taking the time to make the time with our kids.  Stop the guilt...you are good parents and a little change will go a long way.  Only you can change it and make the difference, one step at a time. 
Start your list of things to do with your child today, do it and you will feel better and the guilt will slowly melt away.  All of my best, Dyan
What I learned:  When I make my list for things to do with my daughter, it helps me focus my efforts of spending time with her, we do well rounded things-games, exercise, cooking, you name it what ever we come up with to spend time together, sometimes I need to multi-task my activities of work and play and family time and that is OK, by focusing on the good of what I do, it makes me realize that I am a good parent, not everyday or every thing I do is perfect and that is OK.
What we share:  By creating our things to do list it helps us both focus on important activities for both of us, responsibilities, quality time spent together, realistic expectations of what we can do together in a day or week and lots and lots of bonding.
I was shopping with my daughter and we stopped to look at shoes because the shoes she was wearing were  bothering her.  We started looking at the crocs and were discussing the colors out loud to each other.  The lady next to us starting talking to us about crocs and what she thought of them. She pointed out the pink ones and commented on how cute they were and then pointed out the new mary jane style.  At first, I was taken a back because we were in our own world and kind of in a hurry. I decided to take a step back and talk with her and hear her out.  We discussed the shoes and how all the girl kids in her neighborhood were wearing them, how adorable the purple mary janes were with the pink rhinestone  and how cute the pink ones were.  Myself, this lady and daughter finally decided on the purple ones, because they fit the best and were very cute!  Once the shoes were decided on we chatted for a couple more minutes and it turns out that she was a grandmother and had two sons and no grand kids yet or granddaughters.  I could tell that she was so excited and elated to help out and then it hit me. It was because she never had girls of her own to pick shoes out for!  We parted company and wished each other well.  What we learned:  Stop to make someones day and they will make yours ...stop, take a breath, smile...you never know what you can learn from a friendly grandma.  What we shared: being polite, good manners and the love of new shoes!! 
Happy day making!  Dyan
 Are you the kind of mom that over commits?  To everything?  That's me for sure!  I always think I can do so much more in a day that is actually humanly possible.  Some days, I do achieve my over achieving goals, other days, I don't even get close.  As we wind down our week at a condo that we rented, as we finish our home that has been extensively remodeled to accommodate all of my daughters allergies, I realized all of the things that I told her we were going to do before we checked out of this seasonal rental.  Many of them were outdoor activities, but we have had some seasonally cold temps and lots of rain.  That's ok I tell myself, we will fit them in.  Well that is exactly what I am trying to do.  One of the things I told her I would do was take her to play tennis at the tennis courts in the park behind our condo.  I thought, easy enough, so we packed up our tennis balls and her racquet and walked to the courts.  We got there and I realized it was an actual "tennis center" that was maintained by the city.  I told her as we walked up that I thought we would have to pay to play and I didn't bring my wallet because I was unaware of the size of the complex.  Boy, was she disappointed.  She muttered something about me not bringing my wallet.  I apologized, because I really didn't know.  I said let's go in anyway and see what is what.  We walked to the front desk and I made small talk with the women at the front counter about the center and that I didn't realize that this was even here.  She asked if I was a resident of the city, (and I am), so I told her that I was.  We talked about lessons and the like.  I then told her I didn't realize I would have to pay and if it would be ok to go out for a bit and hit a few balls around.  She said yes and directed us to the racquetball court area where we wouldn't have to do so much running after balls.  I didn't even have a racquet with me, (this was more about doing an activity that my daughter is interested in).  Well...we had a ball (no pun intended)!  She hit the ball quite well and even let me teach her a thing or two.  She picked it up rather well.  After we were done, she was tired.  She had so much fun and even decided she would like to take lessons one day.  It was a smashing success!  What I learned:  try not to over commit yourself to your kids, if you do...follow through and do what you say your going to do, make the time to take the time, try new things with your kids, be proactive in their learning about new sports and open new doors for them, teach them how to get around discouraging situations (like not having the money to get in) and sometimes, there is a way to make things work.  What we shared: quality time, learning a new sport, patience in trying - even if you don't get it right the first time and trust because I followed through and did what I said I would do.
Tennis Anyone?  Dyan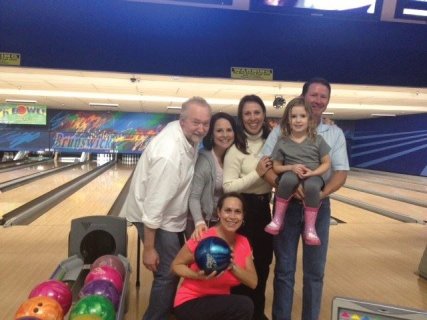 One thing we always did with mom when I was growing up was bowling and what fun it was...bowling with my two sisters, brother and mom.  As I grew up,  it was something I did from time to time and  I was even on a league for a couple of years.  Over the years, I have bowled less and less and only after my brother had kids, did I go bowling again.  Now, that my daughter is five, it is something that we can do to create memories for her.  Hopefully, one day she will look back fondly on these memories, as I do of the ones I had with my mom.  There is one that I remember vivdly.  I was trying to find the perfect bowling ball.  I was about 10.   I was holding the ball and pretending to roll it to make sure it was exactly right.   Then, as I practiced again, I accidentally let go of the ball and it went rolling right down the center main walkway of the bowling alley...   whoops!  It is funny now, but then,  I was a bit embarassed and felt silly.  The memories are still with me and we always spent good old fashioned quality time together.  That was one thing that my mom did teach us, was how to have fun and to spend quality time together. This lesson is still with all of us today.  My oldest sister was in town this past weekend with her husband and we were like, what should we do...it was cold and rainey.  I suggested bowling, and of course, everyone was in.  This was only the second time my daughter has gone bowling and what great fun she had!  My sisters and their husbands also had a good time.  We talked about our days of bowling with mom when were were young, it was extra special for us, because my mom and brother have since passed and this is the first time we have gone bowling together, the 3 of us, since their passing.  Bowling = great times and great memories.  If you haven't done it in a while, take your kids and family out for a couple of hours of inexpensive fun.  The best part is the bumpers stay up for eveyone when you have a young child with you and it might increase your score...that is if you care with all the fun you'll be having!

What we learned:

  how important it is to spend time with family and create new memories, bowling is good old fashioned fun, a bit more about each other, each others memories of bowling with family and after all of these years of bowling... that if only one or two of us break 100, it is ok. 

What we shared:

  new memories, reminiscing about old memories, teaching a new sport to my daughter and lots of laughs.  Strike!.Dyan

My immediate family (husband, daughter and I) have been going through some tough times with my daughter being sick.  There have been many times that I felt I didn't have the strength or the energy to go on...there has been many, many ups and downs.  I feel very fortunate and lucky to have my family to count on...two sisters, two brother-in-laws, my father and my mother and father-in-law.  Our family is not very large, but we are very strong and we do love each other, all of us, very much.  There have been some days that all I needed to do was pick-up the phone and have a conversation of hope, faith and strength with one of my family members, and it literally got me through the day.  When we needed the research to find out what was what, my family was there, (and I found out how smart they all are) and if we worked together, as a team, how much we could accomplish and create a plan that would get my husband, daughter and myself through it all.  When we needed support, my family was there...when we needed hope...they were there...when we needed humor...they were there and so much more.  Without them, we would of not been able to carry on, each one has inspired me in one way or another and have been my inspiration.  I am lucky to have the family that I do.  They inspire me daily to move on and to challenge myself to what ever is standing in my way, whether it is a health matter or a personal dream or goal.  They are the best!  I am the luckiest person in the world!!  What I learned:  That family does come first, reaching out to your family tightens your family circle, hope, love, faith and strength are necessities in life no matter your circumstance.  What we shared:  Strengthening our family bond, the importance of family, humor is always welcomed - especially during tough times and how lucky each and everyone of us is to have each other. 

 

If you have a family member that you haven't talked to in a while because of some issue or other problem, I challenge you to reach out and grow your family bond.  You might each be the inspiration you need to get by.  If you are lucky enough to have a family like mine, I am thrilled, you must be inspired daily!  All the best to you, Dyan

0

/